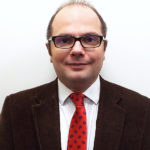 Mr Ahmad Sayasneh
Consultant Gynaecologist
GMC RCOG BGCS BSCCP NCCC EATS ISUOG IOTA EAOGS ESO SATO
Languages spoken: Arabic English
Mr Ahmad Sayasneh
Consultant Gynaecologist
GMC RCOG BGCS BSCCP NCCC EATS ISUOG IOTA EAOGS ESO SATO
Languages spoken: Arabic English
Specialties
Obstetrics and gynaecology, Gynaecology
Gender
Male
Clinical Interests
Ovarian cysts diagnostics and characterisation, Surgery for early (open and laparoscopic) and advanced ovarian cancer; Laparoscopic and open cervical and endometrial and cancers; Supraradical surgery in gynaecological cancer; Exenterative procedures in advanced and relapsed gynaecological cancers; Vulval cancer and reconstructive surgery. Minimal access gynaecological surgery. Colposcopy. Gynecological ultrasonography.
About Mr Ahmad Sayasneh
Mr Sayasneh is Consultant Gynaecological Oncology Surgeon at Guy's and St Thomas' NHS Trust since August 2015. He is an Honorary Clinical Senior Lecturer at Imperial College London (School of Medicine, Department of Surgery and Cancer). His main clinical and research interest is ovarian cancer (screening, diagnostics and management), with long track of peer review publications. He has obtained his Doctorate of Medicine MD(Res) degree in ultrasound characterisation of ovarian masses from Imperial College London.

He has completed his subspeciality training in Gynaecological Oncological surgery at Imperial College Healthcare (Hammersmith, St Mary's and Charing Cross Hospitals in London). Mr Sayasneh has been a member and an invited speaker in the Faculty panel of the International Ovarian Tumour Analysis Group IOTA and the International Society of Ultrasound in obstetrics and Gynaecology ISUOG in the last 6 years. Mr Sayasneh has obtained his RCOG advanced training in vulval disease and vaginal surgery from Cambridge University Hospitals.
NHS Base (trust)
St Thomas Hospital NHS Trust
Professional memberships
General Medical Council (GMC), Royal College of Obstetricians and Gynaecologists (RCOG), British Gynaecological Cancer Society (BGCS), British Society for Colposcopy and Cervical Pathology (BSCCP)