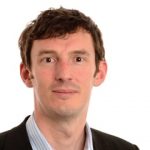 Mr Colin Bicknell
Consultant Vascular Surgeon
BM, MD, FRCS
Languages spoken: English
Mr Colin Bicknell
Consultant Vascular Surgeon
BM, MD, FRCS
Languages spoken: English
Specialties
General surgery, Vascular surgery
Gender
Male
Clinical Interests
Treatment of aortic aneurysms, carotid surgery, lower limb arterial disease, varicose vein surgery.
Biography
Mr Colin Bicknell is a Clinical Senior Lecturer and Consultant Vascular Surgeon at Imperial College Biomedical Research Centre, London. Clinically, his expertise encompasses the full range of vascular conditions requiring surgical and medical attention. These include aortic, carotid artery, upper limb arterial and lower limb arterial, lymphatic and venous disease. His specialist interests are complex aneurysm repair and minimally invasive endovascular surgery for a wide range of vascular conditions including aneurysms and laser vein surgery.

Mr Bicknell's research interests are primarily in the field of minimally invasive vascular surgery directly improving outcomes for patients using the application of novel technologies to improve surgical techniques and improving safety within the operating theatre. He has explored the advantages of robotic endovascular catheters in the vascular tree, and leads the research programme exploring methods to prevent error occurring during vascular procedures.
NHS Base (trust)
Imperial College Healthcare NHS Trust
Professional memberships
Vascular Access Society of Britain & Ireland (VASBI), European Society for Vascular Surgery (ESVS), British Society of Endovascular Therapy (BSET)