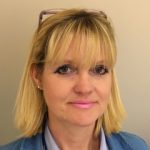 Dr Jeannie Todd
Consultant Endocrinologist
BSc MBBS MD FRCP
Languages spoken: English
Dr Jeannie Todd
Consultant Endocrinologist
BSc MBBS MD FRCP
Languages spoken: English
Specialties
Endocrinology and diabetes mellitus
Gender
Female
Clinical Interests
All aspects of endocrinology and diabetes including thyroid, adrenal, PCOS, prolactin and pituitary diseases, calcium/bone metabolism and MEN 1 and 2.
About Dr Jeannie Todd
Trained at King's College Hospital Medical School, London, completed training in Endocrinology in London. Wellcome Trust Research Fellow at Imperial College1994-7 during which time completed MD on 'Hormonal Control of Pituitary Function'. Appointed consultant at Hammersmith Hospital, Imperial College NHS Trust-2000, Appointed Fellow of the Royal College of Physicians 2004. Senior clinician in Endocrinology at Hammersmith Hospital, active teaching commitment and Co-organizer for Graduate Entry Programme Medical course in Endocrinology at Imperial College. Specialist and research interests include MEN 1 and 2 and Neuroendocrine tumours.
NHS Base (trust)
Imperial College Healthcare NHS Trust
Professional memberships
Society for Endocrinology (SfE), UK and Ireland Neuroendocrine Tumour Society (UKI NETS), Royal Society of Medicine (RSM)