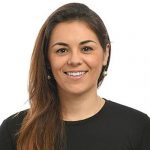 Professor Maria Kyrgiou
Consultant Gynaecologist
MBBS
Languages spoken: English Greek
Professor Maria Kyrgiou
Consultant Gynaecologist
MBBS
Languages spoken: English Greek
Specialties
Obstetrics and gynaecology
Gender
Female
Clinical Interests
Gynaecologic oncology, Gynaecological oncology surgery, Colposcopy, Gynaecological surgery, Laparoscopy, Hysteroscopy, Fertility-sparing surgery in cancer, Rapid access services for suspected cancer
About Professor Maria Kyrgiou
Ms Maria Kyrgiou has expertise in general gynaecology, minimal access surgery and gynaecology oncology. Alongside her work at Cromwell Hospital, Ms Kyrgiou is an associate professor at Imperial College London and a Consultant Gynaecologist and Gynaecologic Oncology Surgeon. Here she specialises in advanced minimal access surgery (laparoscopy and hysteroscopy) for complex benign disease and gynaecologic oncology at the West London Gynaecological Cancer Centre.

Ms Kyrgiou is recognised nationally and internationally for her research. She has been published in scientific journals. She is frequently invited to give lectures in national and international conferences of her specialty.

Ms Kyrgiou provides a seamless, patient focussed service at Cromwell Hospital from effective and rapid diagnosis and if necessary, treatment. She delivers support throughout the entire patient journey in a caring and understanding way.
NHS Base (trust)
Imperial College Healthcare NHS Trust