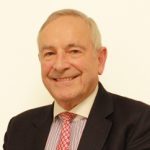 Mr Peter Rhys Evans
Consultant ENT Surgeon
MB BS LRCP FRCS FACS DCC(Paris)
Languages spoken: English French
Mr Peter Rhys Evans
Consultant ENT Surgeon
MB BS LRCP FRCS FACS DCC(Paris)
Languages spoken: English French
Specialties
Ear, nose and throat surgery, Adult, Head & neck oncology
Gender
Male
Clinical Interests
General adult head and neck oncology and thyroid surgery; swalloqing and voice disorders; thyroid disorders; sa;livary gland disease; nasal, sinus and ear problems.
Biography
After qualifying from St Bartholomew's Hospital in 1971, Mr Rhys-Evans trained in ENT/head and neck, and reconstructive surgery before spending a year doing a postgraduate degree in Head and Neck Cancer Surgery at the University of Paris.

In 1981 he was appointed Consultant ENT Surgeon at the Birmingham University Queen Elizabeth Hospital, and in 1986 was invited to take on the post of Chief of ENT/Head and Neck Surgery at The Royal Marsden.

My Rhys-Evans works as part of the endocrine multi disciplinary team.

He gave up his NHS sessions in 2016, but continues his general ENT practice.
NHS Base (trust)
Private only
Professional memberships
Royal Society of Medicine (RSM), Royal College of Surgeons of England, British Association of Endocrine and Thyroid Surgeons (BAETS)