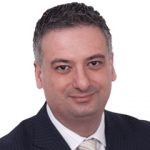 Dr Ramzi Khamis
Consultant Cardiologist
MB ChB DIC PhD MRCP FESC
Languages spoken: English
Dr Ramzi Khamis
Consultant Cardiologist
MB ChB DIC PhD MRCP FESC
Languages spoken: English
Appointments available at:
Specialties
Cardiology
Gender
Male
Clinical Interests
General Cardiology, Interventional Cardiology, Coronary Angioplasty, Cardiac Risk Prevention, Chest Pain, Atherosclerosis
About Dr Ramzi Khamis
Award winning cardiological research in cardiovascular risk and atherosclerosis. Interventional cardiologist with basic and advanced Fellowship training at the Hammersmith Hospital, Imperial College London. Expert in atherosclerosis and coronary artery disease.
NHS Base (trust)
Imperial College Healthcare NHS Trust