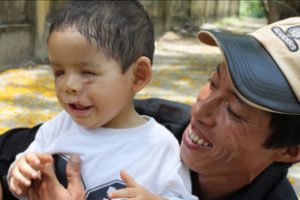 'Extraordinary People' on Channel 5 follows the work of a team of surgeons at Cromwell Hospital as they treat Viet, a baby born with one of the world's rarest facial deformities, in the documentary The Baby With a New Face.
Little Viet was born with one of the world's rarest facial deformities: a cleft palate and bilateral facial clefts. In the bone on each side of his face the two-year old has a two-inch gap, which will increase as he grows. His condition does not just affect the way he looks; it makes him blind in both eyes too. If Viet doesn't have surgery now, he will not be able to speak or eat properly – ever. This documentary is the story of one British medical team's attempt to rebuild Viet's face and offer him a future.
Viet's mother, Nho, has been desperate for something to be done ever since her son was born. Now she has found hope in the form of Mr Niall Kirkpatrick, one of the world's leading cranio-facial surgeons. For years Niall has been going to Vietnam to help children with facial disfigurements, but when he meets Viet, he decides that his case is so complex that he needs to bring him back to the UK for surgery. We follow Viet and Nho as they travel from their small fishing village to London.
As Niall and his team embark on a series of lengthy and extremely challenging operations on her son, Nho has to cope with homesickness, anxiety and deeply unfamiliar surroundings. But if the operations have the effect everyone hopes they will, it will transform both of their lives.
Watch The Baby With a New Face.
---
'Extraordinary People' is the flagship documentary series for Channel 5. Facing the World is a UK charity that offers facial reconstruction surgery to children with severe facial disfigurement who are unable to receive the surgery they need in their own countries. It has worked with Cromwell Hospital (BCH) for the last eight years. Find out more about the charity Facing the World.