Virtual care at the Cromwell Hospital
Speak to a world-leading consultant, from the comfort of your own home.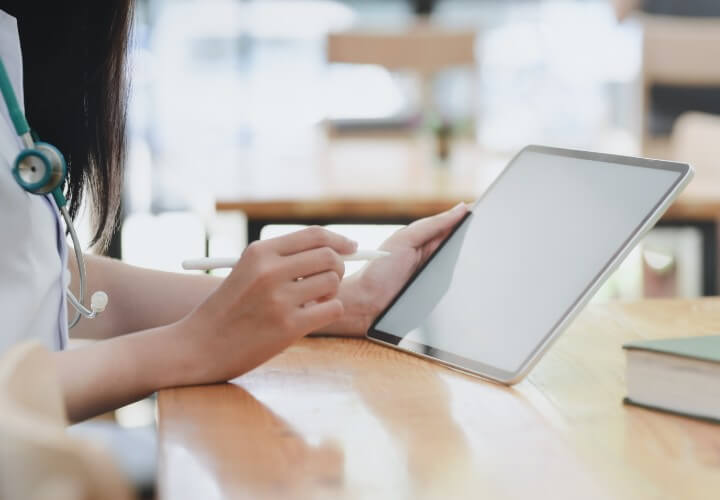 We recognise that face-to-face medical appointments aren't always practical for our international patients.
To ensure that you can safely access the care and support you need, we've launched a virtual consultation service whereby you can speak to a consultant online, through a video conference call.
Virtual consultations allow patients to link directly with clinicians who can provide support and advice and where necessary, begin refining a treatment plan. You will receive a follow up report after the consultation. For those patients who require and choose to have follow-up treatment with us in London, we have rigorous safety protocols in place.
Your virtual consultations will take place in a confidential setting where you will receive the same level of expert care – the same as if you were visiting the hospital in person.
If you require language support, we are happy to provide an interpreter during the consultation.
It's quick and easy to use, and you can join your appointment from your smartphone, tablet or computer – all you need is a secure internet connection. If you would like to share images and reports during your live appointment, we recommend using your laptop for the best experience.
How it works
If you've opted for a virtual consultation, you will receive a unique URL on email or SMS ahead of your appointment.
When your consultation is due to start, simply click through on your URL and join the virtual waiting room – you do not need to enter any credentials. Your clinician will then start the consultation. If you have requested an interpreter, they will be present too.
You'll have your consultation from the comfort of your own home. Your clinician can share their screen with you if they want to show your any images or other test results. There is also the option to see multiple experts in one session where necessary.
Simply close the session when finished. Your clinician can organise any follow-up appointments or referrals.
Book your virtual consultation
Contact our International Patient Centre on +44 (0) 20 7460 5586. We can take your calls between
9am-5.30pm Monday to Friday.
If you are enquiring on behalf of your individual healthcare, please click on 'enquire now'. If you are enquiring on behalf of a patient, please click on 'enquire on behalf of a patient'.