Skyline – our children and young people's department
Skyline is the internationally renowned children and young people's unit at Cromwell Hospital, providing care in a warm and friendly environment.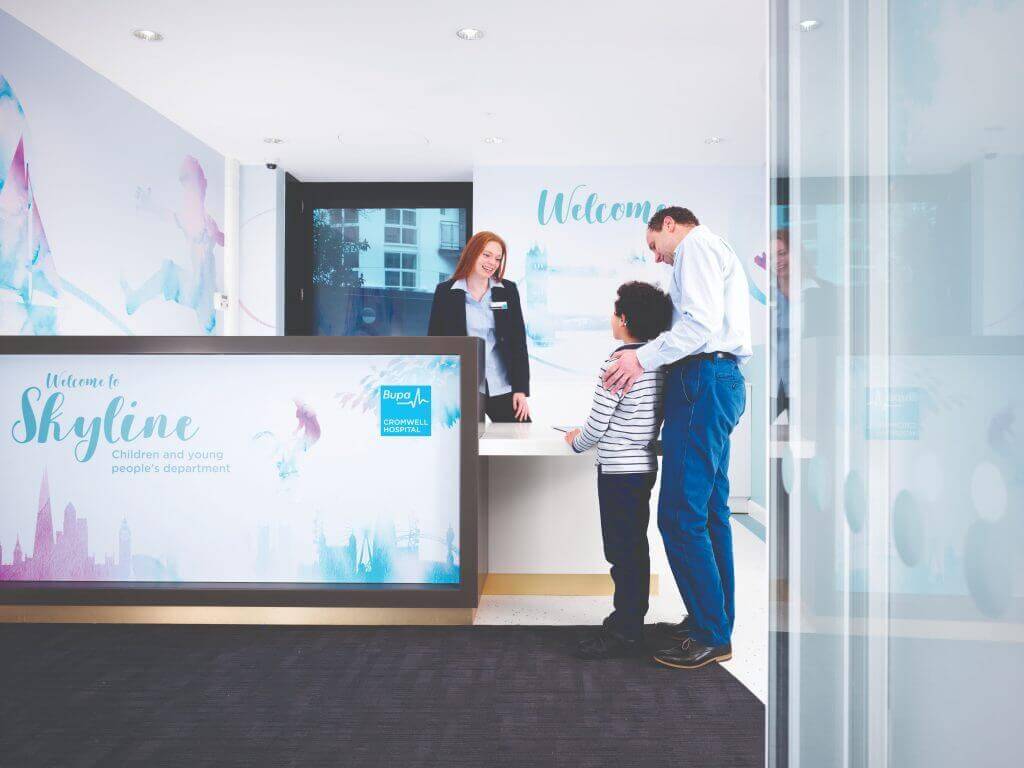 Overview
Your child will be seen by a leading consultant paediatrician or surgeon and a highly-trained medical team. Everyone at Skyline is a paediatric specialist, from the consultants to the nurses and the therapists.
As well as expert medical care, we offer rapid, high-end assessment, with diagnostic tests carried out on-site using our state-of-the-art facilities. If necessary, your child can be admitted as a day patient or inpatient the same day.
While we're not a walk-in service, GPs can refer to us in hours and out-of-hours.
Our inpatient service is complemented by a consultant paediatric intensivist and we are confident that if any of our children deteriorate, our high level clinicians will be able to stabilise the child quickly and decide the most appropriate place for their ongoing care.
In addition, there are theatres on every ward level and all of our on-call anaesthetists are trained in advanced resuscitation.
As part of our admissions assessment we are careful to only admit children when we're sure we can meet their needs safely. This makes us the safest private children's unit for appropriate admission.
Safety is our top priority
Our Skyline Ward is safe and secure and can only be entered by child patients and their parents, or visitors approved by you.
The ward is protected by a coded entry system which can only be accessed by a special card with a timing device, and a new code every day.
We have a child monitor policy which is closely adhered to by all our paediatric consultants and staff and is led by our chief nurse and medical director as a standard.
Emotional health is important too
Our paediatric nurses and play specialists are sensitive to the emotional as well as the physical needs of children and will do everything they can to lessen any concerns you or your child may have.
They know how concerned parents are when a child is not well and will help brothers and sisters to feel more informed and confident too.
Find out what to expect when your child is a patient.
"I would like to thank everyone at Cromwell Hospital for the fantastic way you looked after me. I could not fault anyone during the time I spent with you - from the point I arrived in reception, to the catering team and every member of staff throughout the changes of shift during my stay."
Anonymous, Cromwell Hospital patient
Book an appointment today
Our telephone lines are open 8am to 8pm Monday to Friday and 8am to 2pm Saturdays.
Please note - regrettably we are unable to answer specific medical questions or offer medical advice via email or telephone