Private urgent care in London
Our consultant-led Urgent Care Centre in west London provides adults with rapid access to treatment for injuries and illnesses. We are open 365 days a year. 
We accept walk-in patients over the age of 18 years, no appointment or referral necessary, for injuries and illnesses.  
Please note that patients who have suffered severe life or limb-threatening injuries, have signs of a stroke, or have severe, central crushing chest pain should call 999 without delay. 
You can also call to arrange an appointment on the day or be referred by a GP or consultant. We welcome international patients.   
About the Urgent Care Centre
We understand that medical emergencies can be extremely stressful. Our consultant-led Urgent Care Centre provides you with rapid access to diagnostics and treatment for peace of mind and assurance.
We offer a range of medical services for non-life-threatening illnesses and injuries. Our state-of-the-art hospital is equipped with the latest technology and equipment to ensure accurate diagnoses and effective treatment.
We prioritise patient comfort and convenience, offering flexible appointment times and minimal wait times. Our friendly and compassionate staff will guide you through every step of your visit, from check-in to follow-up care.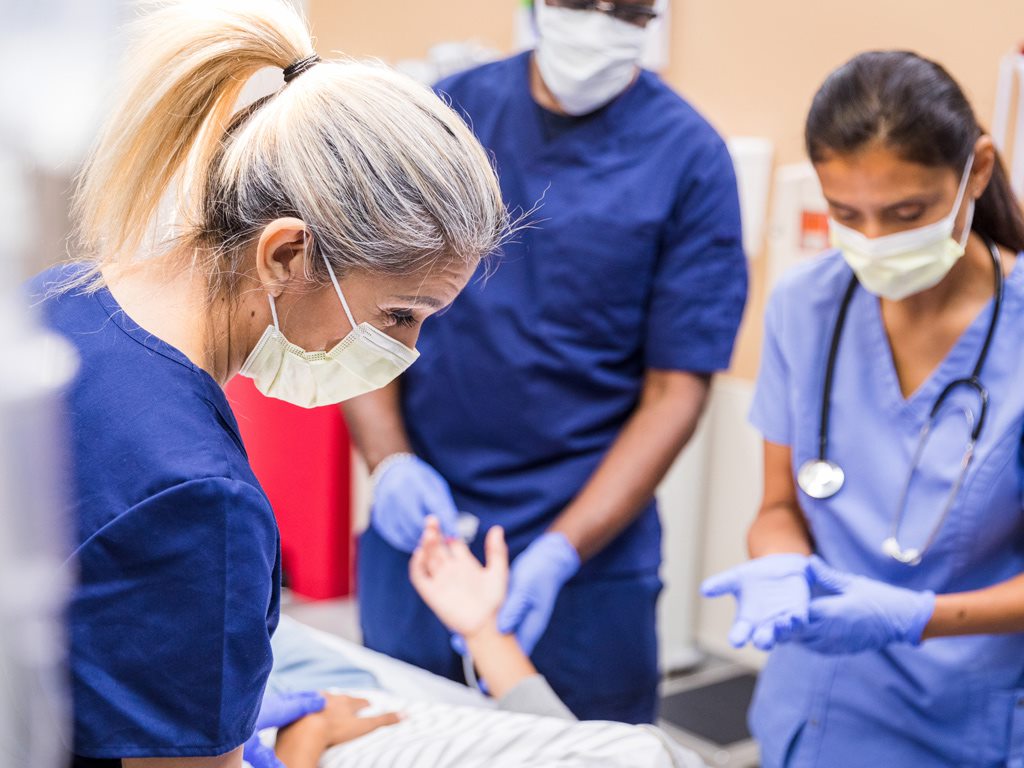 What to expect
When you arrive at Urgent Care you will be seen by an Emergency Medicine trained nurse, who will take details about your condition and carry out some basic tests. If your condition cannot be treated at Cromwell Hospital, you will be supported to attend the most appropriate NHS emergency department.

 

You will then receive a full assessment by an Emergency Medicine Consultant and receive the necessary diagnostics, such as an ultrasound, chest X-ray, or blood tests.

 

After reviewing your condition and test results, your consultant will then discuss the next steps with you. This might include:

 

Receiving treatment in Urgent Care and being discharged home

 

Being sent for more diagnostics, such as an MRI or X-ray

 

Being referred to our Acute Admissions Unit for assessment/admission, investigations and treatment

 

Discharged with an outpatient appointment with our hospital consultants or specialist GPs, or referral for follow-up treatment at Cromwell Hospital or your chosen location.

 
Our dedicated admin will support you throughout the whole journey, ensuring any onward tests or appointments are booked and performed on the same day. 
We can help with a wide range of illnesses and injuries, including:  
Chest infections  

 

Abdominal pain  

 

Some gynaecological conditions  

 

UTIs (urinary tract infection)  

 

Stomach aches  

 

Ear infection  

 

Kidney stones  

 

Back pain

 

Fractures, sprains and strains  

 

Minor head injuries  

 

Burns, cuts and grazes  

 

Sore throats/tonsillitis.

 
We can also provide repeat prescriptions. 
We can't treat any of the following:  
Patients under the age of 18 

 

Heart attacks or strokes 

 

Major trauma 

 

Severe head injuries 

 

Pregnancy related conditions 

 

Mental health conditions, such as anxiety or depression 

 

Poisoning or medication overdose.

 
Why choose us?
Emergency Medicine specialists:

Our highly specialised Urgent Care Consultants are specifically trained in emergency medicine. They all have significant experience in working in Emergency Departments across the UK and are expertly trained to provide you with the best possible care.  

 

Referrals:

Where necessary, you can benefit from onward referrals to specialists at our hospital, ensuring that you receive the appropriate follow-up care for your condition. 

 

COVID safe:

We have full range of personal protective equipment (PPE) to keep you and your family safe when visiting our Urgent Care Centre. Our staff strictly follow local and national guidance to ensure that we minimize any risk of exposure to COVID to you.

 

Range of services:

We use state-of-the-art equipment, which allows our clinicians to undertake rapid assessment and diagnosis of your condition. We'll be able to receive immediate results from any blood tests you have and we can also assess your heart, lungs and abdomen using our highly sophisticated ultrasonography equipment.

 
Paying for urgent care
When you arrive at the Urgent Care Centre, a member of the team will carry out an assessment to ensure that you're in the right place to treat your condition. 
If you're eligible for treatment at our UCC, you'll have an initial consultation with a consultant for a fixed fee of £150. Your consultant will decide what diagnostic tests they feel you need, if necessary. You will pay an additional fee per diagnostic test, in addition to a fixed fee for your initial consultation. You will be informed of these costs before any tests go ahead. 
If you receive a referral to the hospital for ongoing care, you may be able to use your private medical insurance. Cromwell Hospital accepts most medical insurers, as well as self-paying patients.
For life-threatening conditions, you should always call 999 or go to your nearest NHS emergency department. The closest NHS emergency department to Cromwell Hospital is Chelsea and Westminster Hospital.