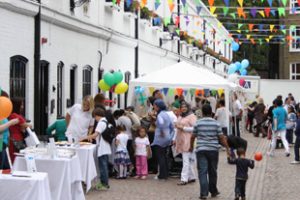 James Cracknell joined over 500 local children, parents and staff at Cromwell Hospital on Saturday, June 25, for a family fun day celebrating the importance of exercise.
As part of Bupa's Global Challenge 2011, parents and children from West London joined James Cracknell at the hospital, for a day of sport and healthy eating, to encourage people to become more active.
Cracknell dropped in to over 25 different activities held at the hospital, from mini-basketball to dance lessons. Putting his skills as a Double Olympic Gold medallist to good use, he led a 'rowing techniques demonstration' on a rowing machine, and oversaw a 'Row-a-thon' time trial (quickest time to row 500 meters).
Mums and Dads enjoyed massages and healthy snacks, provided by the 'Jolly Green Juicer', whilst the kids were kept busy with storytelling and exercise classes. The event also raised money for Starlight, a charity which makes wishes come true for serious and terminally ill children.
Bupa's Global Challenge is a worldwide initiative, which aimed to get more than 35,000 people moving across the globe during June to raise awareness of the benefits of exercise in helping to reduce the risk of developing long term diseases.
Michele Lahey, chief executive, Cromwell Hospital, said, "Bupa Global Challenge is all about getting people moving, through a range of activities such as dancing, walking and sports. It was great to see families joining James Cracknell for a day of exercise and healthy eating at Cromwell Hospital, all in support of the great work done by the Starlight Foundation."
Bupa's Global Challenge is helping to keep people well as part of Bupa's mission to help people live longer, healthier, happier lives.