24 hour ambulatory blood pressure monitor
A 24 hour ambulatory blood pressure monitor uses an inflatable cuff attached to a small device to monitor your blood pressure for a 24 hour period, even as you sleep.
What is a 24 hour blood pressure monitor?
Blood pressure can vary during the day, night and as we exercise.
A 24 hour blood pressure monitor can give us detailed information about these changes by taking multiple measurements over a 24 hour period.
The monitor consists of an inflatable cuff connected to a small mobile-sized device which can be worn around the waist. The cuff will inflate and deflate at regular intervals during this time.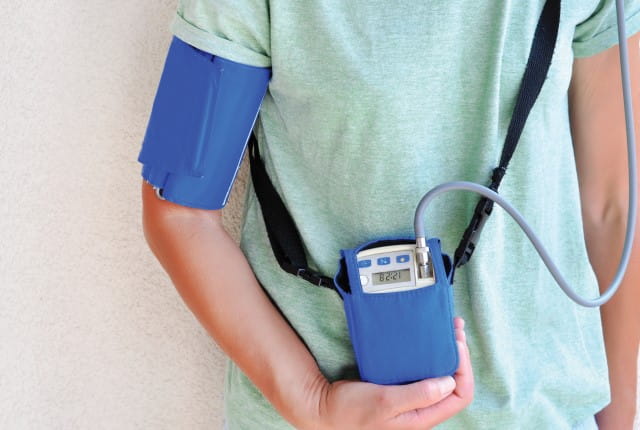 Why might I need a 24 hour blood pressure monitor?
Doctors might want to determine whether your blood pressure readings are higher only when in a hospital setting. This is known as 'white coat hypertension' and does not give a true representation of what your actual blood pressure is in your normal day to day environment.
Additionally, the 24 hour blood pressure monitor is useful for measuring blood pressure during sleep and to provide monitoring in critical conditions. The test may also be requested if you are on any anti-hypertensive drugs, in order to measure how effectively they are controlling your hypertension.
What does a 24 hour blood pressure monitor involve?
A physiologist will place a cuff in a secure position around the arm. This is then connected to the monitor, which stores the information.
You will be instructed that the cuff will automatically inflate at 20 minute intervals during the day and hourly during the night. It is important that the cuff is kept on the arm continuously for the full duration to ensure that there is no displacement of the cuff.
This will allow the doctor to obtain a full clinical picture of your blood pressure over the 24 hours.
We advise that the arm is kept in a still and relaxed position during inflations to allow for accurate readings. The monitor is taken home and is usually attached to a belt around the waist or can be kept in the pocket.
What do I do during the test?
We ask all patients to follow their regular daily routine, including exercise. However, any activities which will get the monitor wet including bath or shower are not allowed. The device beeps once it is time to take a reading. Once you hear the beep, you should sit down, relax and then place your arm on a flat surface, usually at the level of your heart.
Book an appointment today
Our telephone lines are open 8am to 8pm Monday to Friday and 8am to 2pm Saturdays.
Alternatively, fill out our appointment request form and we'll be in touch shortly.
Please note - regrettably we are unable to answer specific medical questions or offer medical advice via email or telephone.