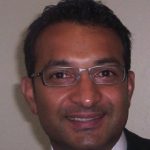 Dr Ravindu Kamdar
Consultant Cardiologist
BSc (Hons), MBBS (Hons), FRCP, CCDS
Languages spoken: English Gujarait Swahili
Dr Ravindu Kamdar
Consultant Cardiologist
BSc (Hons), MBBS (Hons), FRCP, CCDS
Languages spoken: English Gujarait Swahili
Specialties
Cardiology
Gender
Male
Clinical Interests
Cardiac Device therapies (Pacemakers including His-Bundle pacing, Defibrillators (ICD) including SICD, Cardiac Resynchronisation Therapy (CRT) Devices, Arrhythmias , Heart Failure, Hypertension, Coronary artery disease and Coronary angiography
Biography
Dr Ravi Kamdar graduated from The Medical College of St Bartholomew's and the Royal London Hospitals in 1996 with Honours. He trained in General Medicine and Cardiology in London, Kent and Surrey and was appointed Consultant Cardiologist in 2009. In 2012 he took up the post of Consultant Cardiologist in Devices, Arrhythmia and Heart Failure in a joint appointment between Croydon University Hospital and King's College Hospital.

He has established a successful complex cardiac pacemaker and defibrillator implantation and follow-up service at Croydon University Hospital (where none previously existed). This new service was subsequently accredited by NHS England, with a favourable approval.

Dr Kamdar is adept in the investigation, diagnosis and management of all aspects of adult general cardiology including arrhythmia, heart failure, ischaemic heart disease, hypertension and valvular heart disease.

Dr Kamdar has a specialist interest in cardiac devices (ILRs, pacemakers, defibrillators and biventricular cardiac resynchronization therapy [CRT] devices), slow and fast heart rhythm disorders (arrhythmias) and heart failure.

He has considerable experience and expertise in the implantation and follow-up of simple and complex cardiac devices and has a particular interest in using pacing technologies that are less detrimental to the heart, including cardiac resynchronisation therapy and His-bundle pacing.

He has been the highest volume implanter of complex cardiac pacemaker and defibrillator devices at King's College Hospital and Croydon University Hospitals for over five years.

He has successfully introduced novel cardiac device technologies (Subcutaneous-ICDs and His-Bundle Pacing) at Croydon University Hospital, where he now regularly performs these procedures.

He is accredited as a Certified Cardiac Devices Specialist from The International Board of Heart Rhythm Examiners (IBHRE) and is a member of the London Arrhythmia Advisory Group.

Dr Kamdar has developed a Cardiac Devices Research Programme at Croydon University Hospital and is the local Principal Investigator for four NIHR clinical research trials.
NHS Base (trust)
King's College Hospital NHS Foundation Trust
Professional memberships
British Heart Rhythm Society (BHRS), British Society for Heart Failure (BSH), British Society of Echocardiography (BSE), British Medical Association (BMA)