Blue Monday, which falls this year on 18th January 2021, is widely known as the most depressing day of the year. With Christmas over and the Summer still seeming far away,  many people feel down and unlike themselves.
This year, with another lockdown due to the coronavirus pandemic, this day might seem more gloomy than usual.
Here Arthur Rahunoks one of our Mental Health First Aiders, shares his experiences and advice on how to overcome some of the inevitable feelings creeping their way this January.
"Alike many others, the pandemic has caused a lot of change in my life and I have experienced loss, grief, fear, sadness, feelings of isolation and loneliness; but reflecting on my own resilience and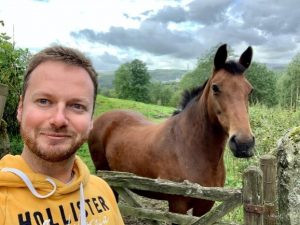 topping up my resilience toolkit has helped me to get through it. We have all been affected by the pandemic in different ways and are at various stages of processing it, so it's important to recognise your own feelings and find strategies that work for you. Remember the good old saying – it's okay not to be okay! Some of us can feel like we must always "stay strong", whether it's for our children if we are parents, or for our staff if we are leaders. Nonetheless, self-care should be a priority for all of us. So, if you feel blue on a Blue Monday or any other day, then so be it! What's important is to process it and get yourself back up.
Managing your feelings
When I'm feeling lots of strong emotions, I personally need to "step out" and make sense of them first. Recently, I've felt massively overwhelmed and sometimes I wasn't even sure of how I was feeling, leaving me less able to focus on my needs. Then, a colleague sent me an article about Cognitive Load Theory, which explained how emotions, new routines and constantly changing environments can draw on the capacity of our working memory, leaving us feeling overwhelmed. Reading this helped me to notice my emotions, name them and normalise them, so I was able to be kinder to myself and feel calmer. Finding a new perspective on the situation rejuvenated me and kept me going.
Keeping spirits up during the pandemic
I read an interesting article about how we don't have the same adrenaline as we did during the first wave and there is more fatigue, boredom and disconnection present. Some might feel less enthusiasm about what used to be their go-to strategy like going for a run, talking to a friend, or organising a quiz with colleagues at work to keep the spirits up. However, we must keep the energy flowing and find tools to generate it rather than accepting that life is just boring and unexciting. The key here is to strike the right balance between comforting and challenging ourselves.
Ask yourself these questions:
What else can I improve right now?
Is there a new skill I can learn?
What will I miss when the pandemic is over and how do I make the most of it right now?
What will be my goals when the pandemic is over?
What is it that I am looking forward to when we get back to normality?
Staying motivated and productive can seem difficult amid current events, but each day you can take concrete steps to manage your thoughts and attitudes. Let us not forget how much we have grown as individuals during this past year. The lessons we learn now will make us stronger for the rest of our lives. Just think to yourself – if you can go through this, is there anything you can't do?",