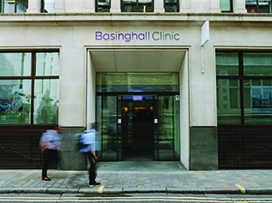 Cromwell Hospital has launched a new outpatient diagnostic clinic in the City of London providing a wide range of specialist care and support for patients.
Basinghall Clinic has 16 consulting rooms, two treatment rooms for minor procedures, a gym for physiotherapy and a state-of-the-art imaging suite consisting of an MRI, X-ray and fluoroscopy. Services and treatments include cardiology, complex spinal services, dermatology, musculoskeletal, respiratory and urology.
The clinic, which opened its doors to patients in June, is open from Monday – Friday and is located near Bank tube station. Basinghall Clinic was previously a Bupa Health Centre but due to recent acquisitions and developments has become part of Cromwell Hospital to treat outpatients.
As part of the new initiative, Basinghall Clinic has been rebranded with  a new logo and new services that previously weren't offered to patients.
Patients who visit the clinic and require more complex diagnostics, day case or inpatient care will be easily referred to Cromwell Hospital, creating a seamless patient pathway.
About Basinghall Clinic
Basinghall Clinic boasts a range of highly skilled and experienced consultants who specialise in a range of areas, from cardiology and orthopaedics. to sports and exercise medicine. Each consultant group holds regular multidisciplinary team meetings (MDTs) to discuss a patient's injury and the best course of treatment for them.
Danielle Sharp, Centre Manager at Basinghall Clinic, comments; "We are delighted to have officially launched Basinghall Clinic as part of Cromwell Hospital. We have a fantastic range of highly skilled consultants who work closely together to make sure our patients are receiving the best possible care and treatment.
"Since we opened in June we have seen more and more patients coming in for our diagnostic and treatment services, as we are located so close to Bank tube station, many of these patients are busy professionals working in the City.
"The whole team is dedicated to putting our patients at the forefront of everything we do and ensuring that if a patient needs inpatient care the pathway to further treatment is a seamless transition."
Philip Luce, Hospital Director at Cromwell Hospital, adds; "The opening of Basinghall Clinic is a huge opportunity for Cromwell Hospital and we are all very excited that it is officially open. We have seen a real demand for our outpatient services over the past few years and Basinghall Clinic is a testament to the hard work of the team.
"We have some remarkable consultants at the clinic who are incredibly experienced within their area of expertise and state-of-the-art equipment available to ensure our patients are receiving high quality care and a quick diagnosis."
The clinic accepts patients from all major insurers as well as self-paying patients.