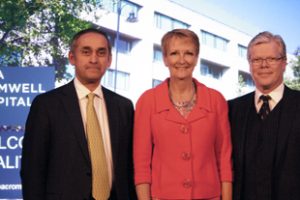 London's Science museum hosted Cromwell Hospital's inaugural quality lecture with former Health Minister Lord Ara Darzi.
Launching in 2011, the annual Cromwell Hospital quality lecture series recognises the importance of quality in healthcare systems. Every year, the lecture will also honour individuals who have made a significant contribution to the quality agenda at the hospital.
Lord Darzi discussed innovation in healthcare, using examples from his own clinical practice. Darzi joined Cromwell Hospital CEO Michele Lahey and a host of healthcare professionals from across London for the event. Professor Edward Howard, who established Cromwell Hospital's Paediatric programme and served as Medical Director was honoured for his significant contribution to quality of care at the hospital.
Michele Lahey, chief executive officer, Cromwell Hospital, said, "We are delighted to have had the opportunity to welcome Lord Darzi to deliver our first annual quality lecture. At Cromwell Hospital, we're passionate about the quality of care we give to every patient and we want to deliver an outstanding patient experience. That's why this year, we're embarking on an ambitious transformation programme to become a world leading facility."
Lord Ara Darzi said, "Raising the quality of care for patients is what has inspired me through my career as a surgeon and health minister. In today's society, there is increasing pressure for providers to deliver quality healthcare services in new and innovative ways. As we change and improve healthcare in the UK, colleagues from across the sector need to work together to ensure that we achieve this ambition."
Photo: Lord Darzi with Michele Lahey, CEO, and Paul Montgomery, Medical Director, Cromwell Hospital