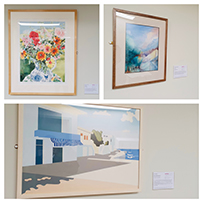 National charity Paintings in Hospitals has partnered with Cromwell Hospital to bring world-class artworks and art activities to patients and hospital staff.
A new display of artworks at Cromwell Hospital is part of a partnership with arts-in-health charity Paintings in Hospitals. The artworks are on loan from the Paintings in Hospitals collection: an art collection first created 60 years ago to inspire better health and wellbeing for patients and carers across the country.
Studies have shown that art can help us stay well, aid our recovery from illness and injury, and support us to live longer, more fulfilling lives . Painting in hospitals mission is to transform clinical environments into compassionate care spaces that encourage, enrich, and empower everyone.  The charity work with over 170 health and social organisations across Wales, England, and Northern Ireland, providing artwork loans and art activities to many different audiences within health and social care settings.
The charity's art collection features artworks by some of the world's greatest artists  and will be accompanied by creative workshops, which offer an opportunity for patients and carers to learn about and co-curate the artwork displays.
Amisha Karia, Head of Collection, Loans & Programming at Paintings in Hospitals, said: "It has been a pleasure to work in partnership with patients and staff at Cromwell Hospital to develop this new art display. We hope the artworks and creative activities will inspire hope and boost wellbeing for everyone who visits and works at Cromwell Hospital."
Philip Luce, Hospital Director, Cromwell Hospital, adds: "We are delighted to have partnered with Paintings in Hospitals. We aim to continually invest in our hospital and these paintings are making a really positive impact on our environment."
ENDS
For further enquiries, images, or interviews from Paintings in Hospitals, please contact:
Thomas Walshaw, Communications & Development Manager
T: +44 (0)207 407 3222, E: t.walshaw@paintingsinhospitals.org.uk
Enquiries
For further enquiries, images, or interviews from Cromwell Hospital, please contact:
Laura Tompkins, Press Officer
T: 07595461287 E: laura.tompkins@bupa.com
Editor's notes
About Paintings in Hospitals
Paintings in Hospitals is the UK's leading 'arts in health' charity. It is the longest-established organisation in the sector and the only national art collection of its kind. Founded in 1959, the charity uses art and creativity to inspire better health and wellbeing for patients and carers. Paintings in Hospitals is partnered with over 170 health and social care organisations in England, Wales and Northern Ireland, loaning its art and hosting hands-on workshops to create care spaces that encourage, enrich and empower everyone who uses them.
The Paintings in Hospitals collection holds over 3,900 artworks, including pieces by Bridget Riley, Antony Gormley, Ian Davenport, Maggi Hambling, Andy Warhol, Anish Kapoor, Howard Hodgkin, Patrick Caulfield, Helen Chadwick, Sonia Boyce, Alexander Calder, and many more. Paintings in Hospitals has also partnered with national museums and collections, including the V&A, Wallace Collection, and Hayward Gallery, enabling the charity to bring more world-class art to people who cannot reach it alone. Paintings in Hospitals receives no Government funding and relies entirely on grants, donations, and support from the public to continue its work. Paintings in Hospitals is a Registered Charity (No. 1065963).
Website:  www.paintingsinhospitals.org.uk
Twitter: @artinhospitals
Facebook: Paintings in Hospitals
Instagram: @PaintingsinHospitals
About Cromwell Hospital
Cromwell Hospital was established in 1981 and acquired by Bupa, leading international healthcare group, in March 2008. It is a leading London hospital renowned for being the first to invest in some of the UK's leading edge equipment and cancer services.
Based in West London, the hospital has over 500 accredited consultants, mainly drawn from London's teaching hospitals, covering over 70 specialties. It is recognised as a centre of excellence for oncology, cardiology, paediatrics, orthopaedics, lung, complex surgery and medicine. Cromwell Hospital's diagnostics service offers the very latest technology. There are two ambient MRI scanners and the angiography suite offers the most up-to-date imaging available in London. Consultants use the latest surgical techniques and have access to advanced non-invasive technologies, such as Gamma Knife surgery and robot-assisted joint replacement surgery. Outpatient services include private GPs, health screening and family medicine services.
The hospital has 120 beds and boasts a large and loyal UK and international clientele, admitting self-pay, embassy sponsored patients and those funded by medical insurance. Cromwell Hospital constantly strives to provide a first class service to its patients through the use of state-of-the-art technology, innovative diagnostics and a continuous investment programme.