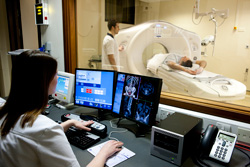 Cromwell Hospital has installed the most advanced high definition CT scanner in London, which produces high definition images in a never-before seen level of detail.
The Discovery CT750 scanner enables doctors to see small vessels, as thin as a human hair. The cutting-edge technology provides large area coverage scans for the brain and body, virtual colonoscopy, 3D bone and tissue reformatting and high resolution cardiac imaging. A full body scan can be performed in 10 seconds.
The CT scanner will complement the comprehensive services available in the hospital's recently refurbished cardiac centre, offering patients a high quality, seamless pathway for cardiac treatment.
Dr Michael King, lead consultant radiologist at Cromwell Hospital, said, "At Cromwell Hospital, we want to deliver an outstanding patient experience. Our new CT scanner will enable patients and clinicians to benefit from access to the best quality imaging available. With a significantly lower dose of radiation than a conventional CT scanner and a fast, less painful scanning process, this scanner is an excellent addition to the hospital's diagnostic facilities."
NB: CT stands for (Computed Tomography) and CT scanners use X-rays to create cross-sectional imaging for any part of the body.