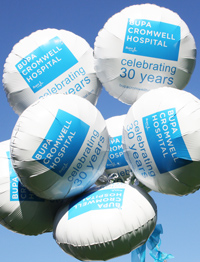 Cromwell Hospital colleagues have been reflecting on three decades of medical excellence.
Our hospital, located in West London, marked its 30th anniversary last month with an exhibition recalling significant moments.
Cromwell Hospital opened its doors in 1981 and was purchased by Bupa in March 2008. Here we share some of the medical firsts and pioneering projects that have shaped Cromwell's proud history and demonstrate Bupa's investment in innovation and the highest quality patient care over the past three years.
1982 The opening of a private radiotherapy department with state-of-the-art linear accelerators.
1998 Surgeons successfully carry out Europe's first live adult-to-adult liver transplant from a 19-year-old daughter to her mother.
The introduction of a Gamma Knife for the treatment of benign and secondary brain tumours.
2000 The launch of a fully integrated comprehensive Paediatric Centre.
2004 Launch of the Cancer Recovery Programme and laparoscopic renal Cryotherapy, a freezing technique for treating kidney cancer less invasively.
2006 The first UK hospital to install the TomoTherapy System, a pioneering type of radiation treatment.
2007 Installation of the Gamma Knife Perfexion for the treatment of brain, head and neck lesions.
2009 Cromwell Hospital becomes one of the first hospitals in the UK to introduce the World Health Organization surgical safety checklist.
2010 The first London private hospital to appoint an Infection Prevention and Control Consultant Nurse.
A new angiography suite to carry out both diagnostic and interventional procedures including electrophysiology studies.
2011 A leading edge Computerised Tomography (CT) scanner, which delivers a radiation dose 83 percent less than conventional equipment during cardiac scans, is installed.