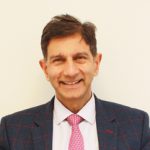 Dr Amin Rahemtulla
Consultant Haematologist
BSc (Hons) MBBS MRCP (UK) PhD FRCP
Languages spoken: English Gujarati Hindi Swahili
Dr Amin Rahemtulla
Consultant Haematologist
BSc (Hons) MBBS MRCP (UK) PhD FRCP
Languages spoken: English Gujarati Hindi Swahili
Specialties
Haematology, Haemato-oncology
Gender
Male
Clinical Interests
Anaemia, myeloma, lymphoma, leukaemia, stem cell transplantation.
About Dr Amin Rahemtulla
Dr Amin Rahemtulla PhD FRCP is a Private Consultant Haematologist at Cromwell Hospital. He has over 23 years of experience as a National Health Service (NHS) Consultant.

Dr Rahemtulla qualified from University College Hospital Medical School, London and trained in Haematology at the Hammersmith Hospital following which he undertook a period of training in research at the Ontario Cancer Institute, Canada where he obtained his PhD. He then returned to the UK to take up a post as a Wellcome Senior Research Fellow in Clinical Science in the Nuffield Department of Medicine at the John Radcliffe Hospital, University of Oxford before taking up a post as a Consultant in Haematology at Hammersmith Hospital where he spent 16 years.

Dr Rahemtulla treats patients with a broad range of blood disorders including anaemia, bleeding or clotting disorders and malignant diseases of the bone marrow.
NHS Base (trust)
Imperial College Healthcare NHS Trust
Professional memberships
Royal College of Physicians, British Society for Haematology (BSH), American Society of Hematology (ASH), British Society of Blood and Marrow Transplantation (BSBMT)