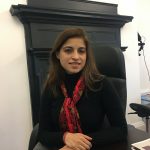 Miss Amynah Goawalla
Consultant Ophthalmic and Oculoplastic Surgeon
BSC(HONS), MBBS, FRCOPHTH, MED
Languages spoken: English Gujarati Hindi
Miss Amynah Goawalla
Consultant Ophthalmic and Oculoplastic Surgeon
BSC(HONS), MBBS, FRCOPHTH, MED
Languages spoken: English Gujarati Hindi
Specialties
Ophthalmology, Oculoplastic surgery, Surgical
Gender
Female
Clinical Interests
Eyelid plastic surgery including eye bag removal, lifting droopy lids, eyelid tumour excision and reconstructive surgery, emergency ophthalmology and general medical ophthalmology.
About Miss Amynah Goawalla
Dr Amynah Goawalla studied medicine at Guy's and St Thomas' Medical School in London and qualified as a doctor in 1999. She went on to specialise in ophthalmology and completed the bulk of her higher surgical training at Moorfields Eye Hospital. She developed further sub-specialist expertise in oculoplastic surgery after undertaking fellowships in Brighton and then in Cardiff, Wales. Dr Goawalla has been practising as a consultant eye surgeon since 2013. She joined Imperial College Healthcare NHS Trust as a substantive consultant in 2017 where she does emergency and general ophthalmology with a continued specialist surgical focus on oculoplastic surgery.
NHS Base (trust)
Imperial College Healthcare NHS Trust
Professional memberships
British Oculoplastic Surgery Society (BOPSS), General Medical Council (GMC), Royal College of Ophthalmologists