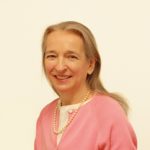 Dr Anne Mier
Consultant in Respiratory Medicine
MD(Lond) FRCP
Languages spoken: English French Polish
Dr Anne Mier
Consultant in Respiratory Medicine
MD(Lond) FRCP
Languages spoken: English French Polish
Specialties
Respiratory medicine
Gender
Female
Clinical Interests
All respiratory disorders including asthma, allergy, COPD, cough, breathlessness, chest infections, sleep disorders, lung cancer, sarcoidosis, bronchiectasis. General health including fatigue syndromes.
About Dr Anne Mier
Dr Mier graduated in medicine at Middlesex Hospital, London. After training posts in cardiology and rheumatology at the Middlesex Hospital, general medicine and neurology at (what is now) Chelsea and Westminster Hospital, and general medicine and endocrinology at Royal Free Hospital, Dr Mier became registrar at Royal Brompton Hospital, carrying out research into respiratory muscle physiology, where she completed her MD thesis, and then later lecturer and senior medical registrar at Charing Cross Hospital.

She has been Consultant Physician at Royal Free London NHS Trust, Chase Farm Hospital since 1992, where she was the Lead Clinician in Asthma and Allergies . She was a Member of the Research Committee of the British Thoracic Society for 3 years.

She was awarded the Physicians as Educators qualification from the Royal College of Physicians, and she is an Examiner for the PACES examination for the Membership of the Royal College of Physicians.

Her interests include cough, breathlessness, chest infections, asthma, allergies and COPD, lung cancer, sleep disorders and fatigue.
NHS Base (trust)
Private only
Professional memberships
British Medical Association (BMA), Independant Doctors Federation, Royal College of Physicians, Chelsea Clinical Society, British Thoracic Society (BTS), European Respiratory Society (ERS)