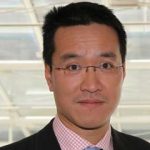 Dr Anthony Chow
Consultant Cardiologist
BSc, MD, FRCP
Languages spoken: Cantonese English
Dr Anthony Chow
Consultant Cardiologist
BSc, MD, FRCP
Languages spoken: Cantonese English
Specialties
Cardiology
Gender
Male
Clinical Interests
Cardiac resynchromiastion, lead extractions, VT mapping, AF and left atrial appendage occlusion devices.
About Dr Anthony Chow
Dr Chow did his specialist cardiology training at Imperial College. He was appointed as consultant cardiologist in 2002 at The Heart Hospital UCLH, where he helped build one of the busiest and most respected centres in the UK. Dr Chow is an Honorary Senior Lecturer at UCLH, a Fellow of the Royal College of Physician and an examiner for the University of London.

Dr Chow is an electrophysiologist treating large volumes of patients with ventricular tachycardia, atrial fibrillation, CRT/defibrillators and lead extractions. He also implants watchman devices for stroke prevention. He provides arrhythmia services for Berkshire, Central and North London.
NHS Base (trust)
University College London Hospitals NHS Foundation Trust
Professional memberships
Heart Research UK (HRUK), Royal College of Physicians