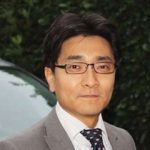 Professor Dae Kim
Consultant ENT Surgeon
MBChB, BDS, MSc, FRCS (Orl-HNS), PhD
Languages spoken: English Korean
Professor Dae Kim
Consultant ENT Surgeon
MBChB, BDS, MSc, FRCS (Orl-HNS), PhD
Languages spoken: English Korean
Specialties
Ear, nose and throat surgery, Adult, Head & neck oncology
Gender
Male
Clinical Interests
Complex head and neck surgery, minimally-invasive and robotic thyroid and parathyroid surgery, voice and laryngeal problems.
About Professor Dae Kim
Professor Dae Kim is a leading consultant ENT surgeon based in London. As a well-trained ENT surgeon and with extensive experience from over 20 years of practice, he treats a wide range of ear and hearing problems, as well as nasal and sinus problems. He has special expertise in complex head and neck problems including neck lumps, cancer, throat problems, hoarseness, and in thyroid cancer and thyroid surgery.

Professor Kim is based both at the Royal Marsden Hospital and St George's University Teaching Hospital, London. Unusually, he is 'dual-qualified' in both medicine (Edinburgh University) and dentistry (Birmingham University). He subsequently trained at Edinburgh and Cambridge teaching hospitals. In the latter stages, he completed a specialist ENT surgery program within the West Midlands, and an Advanced Fellowship in both head and neck surgery and endocrine (thyroid & parathyroid) surgery.

Professor Kim is an academic 'surgeon-scientist', and after comprehensive research training at Harvard University and Birmingham University (for which he was awarded a PhD doctorate and the prestigious 'Syme Medal' by the Royal College of Surgeons), he continues to undertake an active research program in thyroid cancer/surgery. This includes studies into the role of immunotherapy in aggressive thyroid cancers, circulating DNA as a novel biomarker, qualitative research in surgical outcomes and patient experience. He supervises several MD/PhD research fellows as part of a wider research program at the Institute of Cancer Research, working closely with Dr Kate Newbold and Professor Kevin Harrington. He has been awarded more than £2.5 Million in research funds, and furthermore, he recently was successful in being awarded a major NIHR HTA grant for a multi-centre clinical trial in thyroid cancer (Chief Investigator - HoT Trial).

He has a clinical interest in minimally-invasive 'scarless' robotic and endoscopic thyroid surgery. After an advanced thyroid and parathyroid surgery fellowship at the Toronto General Hospital and the Mount Sinai Hospital, under the tutelage of the world's most renowned surgeons, he further trained to perform minimally-invasive 'keyhole' thyroid and parathyroid surgery under the pioneers of this technique; Professors David Terris (USA) and Paulo Miccoli (Italy), More recently, Professor Kim aims to develop and offer the latest 'Scarless Trans-oral Thyroid Surgery'.

Prof Kim contributes to several international textbooks in head & neck and thyroid surgery. He is an invited faculty member in several international training courses and surgical societies including the World Thyroid Congress, International Robotic Surgery Symposium and the Asia-Pacific Society Thyroid Surgery. He is currently a Council member of the Royal Society of Medicine (Laryngology & Rhinology), National Institute of Cancer Research (Thyroid group) and advises the National Institute of Clinical Excellence.
NHS Base (trust)
St George's University Hospitals NHS Foundation Trust
Professional memberships
British Association of Endocrine and Thyroid Surgeons (BAETS), British Association of Head and Neck Oncologists (BAHNO), ENT UK