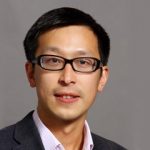 Dr Dean Huang
Consultant Radiologist
BMedSci BMBS MRCPCH FRCR EBIR
Languages spoken: Cantonese English Mandarin
Dr Dean Huang
Consultant Radiologist
BMedSci BMBS MRCPCH FRCR EBIR
Languages spoken: Cantonese English Mandarin
Appointments available at:
Specialties
Clinical radiology, Uroradiology, Interventional radiology
Gender
Male
Clinical Interests
Male health, vascular radiology, ultrasound and image-guided intervention.
About Dr Dean Huang
Dr. Dean Huang is a Consultant Radiologist at King's College Hospital London. He completed his radiological training at King's College Hospital and has been a consultant radiologist since 2008. His main clinical interests include all aspects of vascular and urogenital imaging and imaging-guided intervention.

His main research interests centre on vascular radiology and use of ultrasound contrast media in the depiction of urogenital disease and in interventional ultrasound. He has authored/co-authored a number of peer-reviewed scientific papers and book chapters across his areas of interest and lectured at national and international meetings.

Dr. Huang is the clinical lead in urogenital radiology and radiology training programme director at King's College Hospital, London.
NHS Base (trust)
King's College Hospital NHS Foundation Trust
Professional memberships
Royal College of Radiologists (RCR) , British Society of Interventional Radiology (BSIR), Cardiovascular and Interventional Radiological Society of Europe (CIRSE), Radiological Society of North America (RSNA)