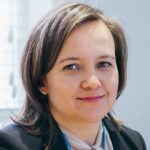 Dr Elena Khamzina
General Practitioner
MRCGP, LMSSA (Lond), LRCP (Lond), LRCS (Eng)
Languages spoken: English Russian
Dr Elena Khamzina
General Practitioner
MRCGP, LMSSA (Lond), LRCP (Lond), LRCS (Eng)
Languages spoken: English Russian
Specialties
General practice
Gender
Female
Clinical Interests
Women's health, breast diseases, obstetrics and gynaecology.
About Dr Elena Khamzina
Dr Elena Khamzina received her Russian medical diploma from the Urals State Medical Institute, Yekaterinburg in 1994 and qualified to practice medicine in the UK at The United Medical and Dental School of Guy's and St Thomas' Hospitals (UMDS), London in 1997 (LMSSA). After junior roles in Greenwich and Kingston hospitals Elena trained for medical General Practice in Chelsea and Westminster Hospital. She also completed a course in psychodynamic psychotherapy in Washington DC in 2005. Elena entered onto the UK GP Specialist Register in 2007 and became a member of the Royal College of General Practitioners (MRCGP) in the same year. Elena has extensive experience of practicing urgent medical care for both adults and children. She continues with this work in the Urgent Care Centre at The Hillingdon Hospital NHS Trust near Heathrow Airport; as well as in her private practice in Cromwell Hospital.
NHS Base (trust)
The Hillingdon Hospitals NHS Foundation Trust
Professional memberships
Royal College of General Practitioners (RCGP)