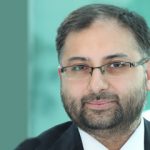 Dr Fakhar Khan
Consultant Cardiologist
MA (Cantab), MBBChir, MRCP (UK), CCDS, CEPS
Languages spoken: English Hindi Punjabi Urdu
Dr Fakhar Khan
Consultant Cardiologist
MA (Cantab), MBBChir, MRCP (UK), CCDS, CEPS
Languages spoken: English Hindi Punjabi Urdu
Specialties
Cardiology, Cardiac devices, Electrophysiology
Gender
Male
About Dr Fakhar Khan
Dr Fakhar Khan is a Consultant Cardiologist based at the Barts Heart Centre and the Royal Free Hospital.

He graduated from Cambridge in 1999 with further training in London, Oxford and Canada where he was awarded the Mirium L Burnett Fellowship.

He has a strong research record, publishing many articles, and is an invited speaker at international meetings. He won the UK Young Investigator Award and the prestigious Ralph Noble Prize from Cambridge for his outstanding work.

He regularly performs procedures for the treatment of heart rhythm disorders including insertion of cardiac devices and all aspects of ablation therapy.
NHS Base (trust)
University College London Hospitals NHS Foundation Trust