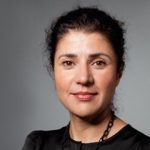 Dr Gitta Madani
Consultant Radiologist
FRCR, MRCS, MBBS, FDS RCS, BDS
Languages spoken: English Farsi
Dr Gitta Madani
Consultant Radiologist
FRCR, MRCS, MBBS, FDS RCS, BDS
Languages spoken: English Farsi
Specialties
Clinical radiology, Head & neck radiology
Gender
Female
Clinical Interests
ENT, Sinonasal, Salivary, Thyroid, Parathyroid, Maxillofacial, Temporomandibular joint and Skull Base imaging, Minimally invasive salivary intervention.
About Dr Gitta Madani
Gitta Madani is a Consultant Radiologist at Imperial College NHS Trust and an Honorary Senior Lecturer at Imperial College London. She is the Subspecialty Lead in Head and Neck Imaging at Imperial, one of the largest ENT and thyroid surgery centres in the UK.

Dr Madani specialised in all aspects of head and heck radiology including oncology, skull base pathology, otological, sinonasal, salivary, maxillofacial and thyroid imaging. She performs ultrasounds, dacryocystograms and sialograms and interventional procedures, such as biopsies, fine needle aspirations as well as salivary intervention for the removal of stones and balloon dilatation of salivary duct narrowing.

Dr Madani qualified in 1998 from Imperial College London. She undertook her general radiology training at the Royal Free Hospital before completing a Fellowship in Head and Neck Imaging at University College Hospital.

Dr Madani teaches undergraduates and graduates and lectures nationally and internationally. She is active in research and has published extensively on various aspects of Head and Neck Radiology. Dr Madani is a member of the management committee for the British Society of Head and Neck Imaging and has been the advising radiologist on a number of National Guidelines.
NHS Base (trust)
Imperial College Healthcare NHS Trust
Professional memberships
British Society of Head and Neck Imaging (BSHNI), European Society of Head and Neck Radiology (ESHNR)