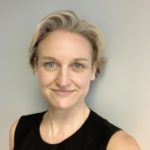 Dr Hannah Skene
Consultant in Acute and General Internal medicine
MBChB, MMedSci, FRCP, FRCPE
Languages spoken: English
Dr Hannah Skene
Consultant in Acute and General Internal medicine
MBChB, MMedSci, FRCP, FRCPE
Languages spoken: English
Specialties
Acute medicine, Acute Internal Medicine
Gender
Female
Clinical Interests
Assessment and management of a wide range of acute and long term medical presentations; coordinating acute and ongoing medical care across specialties.
About Dr Hannah Skene
Dr Hannah Skene offers comprehensive assessment and management of acute and general medical presentations, providing initial diagnostic and treatment plans as well as ongoing medical care for a wide range of acute and long term conditions. She works collaboratively with other medical and surgical specialties and multi professional teams to provide individualised and holistic patient care.

Dr Skene qualified from the University of Aberdeen Medical School in 2002 and was appointed Consultant in General and Acute Internal Medicine at Chelsea & Westminster Hospital in 2013. She was clinical lead for Ambulatory Emergency Care 2013-16 and clinical lead for Acute Medicine 2016-23.

Dr Skene has been actively involved in the design and delivery of UK-wide acute medical services and care standards since 2006, working with hospital trusts, the Royal Colleges of Physicians, and the Society for Acute Medicine. She is a qualified and experienced multi-professional educator and trainer – awarded MMedSci in Medical Education in 2010 and Senior Fellow Higher Education Academy in 2014. She is also a Clinical Tutor for Physician Associates, Honorary Clinical Senior Lecturer for Imperial College, and Foundation Year 1 Training Programme Director for Chelsea & Westminster Hospital.
NHS Base (trust)
Chelsea and Westminster Hospital NHS Foundation Trust
Professional memberships
Royal College of Physicians, Royal College of Physicians of Edinburgh