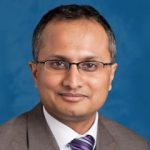 Professor Hashim Ahmed
Consultant Urological Surgeon
PhD, FRCS(Urol), BM, BCh (Oxon), BA(Hons)
Languages spoken: Bengali English
Professor Hashim Ahmed
Consultant Urological Surgeon
PhD, FRCS(Urol), BM, BCh (Oxon), BA(Hons)
Languages spoken: Bengali English
Specialties
Urology
Gender
Male
Clinical Interests
Professor Ahmed has received the BMJ Award for Innovation 2015 for his group's work in prostate cancer diagnosis and treatment. Diagnosis of prostate cancer Advice on PSA screening. Advice on prostate cancer risk for men with a family history or other risk factors. Multi-parametric MRI. MRI-guided biopsies, transperineal template biopsies, image-fusion prostate biopsies). Biopsies under local anaesthetic, sedation or general anaesthetic Treatment of Prostate Cancer Focal therapy, HIFU, cryotherapy, active surveillance. Second opinion on treatment options. Member of Multi-disciplinary team meetings for case discussions of all prostate cancer cases. Diagnosis and management and treatment of men with urinary symptoms Benign prostate hyperplasia, lower urinary tract symptoms. Treatment using bipolar TURP, laser, Uro-lift, medical management, self management Diagnosis and management of patients with blood in the urine (haematuria).
About Professor Hashim Ahmed
Professor Hashim Ahmed is an internationally renowned expert in prostate cancer diagnosis, imaging and biopsy as well as minimally invasive therapies for prostate cancer such as HIFU and cryotherapy - either whole-gland or focal therapy for primary prostate cancer or radiorecurrent disease. He has performed hundreds of transperineal targeted and mapping biopsies and hundreds of HIFU procedures.

He has taught dozens of surgeons in these techniques in the UK and around the world. He has given dozens of invited lectures in this area and currently research and published many of the key papers driving the change in the diagnostic and treatment pathway of prostate cancer.
Professor Hashim Ahmed introduces the prostate care diagnostic pathway
NHS Base (trust)
University College London Hospitals NHS Foundation Trust
Professional memberships
Royal College of Surgeons of England, National Cancer Research Institute (NCRI), Cochrane ,EAU Section of Urological Imaging (ESUI)