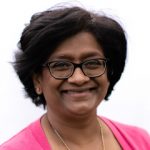 Dr Keshthra Satchithananda
Consultant Radiologist
BDS, FDSRCS, MBBS, FRCS, FRCR
Languages spoken: English
Dr Keshthra Satchithananda
Consultant Radiologist
BDS, FDSRCS, MBBS, FRCS, FRCR
Languages spoken: English
Specialties
Clinical radiology
Gender
Female
Clinical Interests
Breast cancer imaging and multimodality imaging of common muscolskeletal pathologies.
About Dr Keshthra Satchithananda
Dr Satchithananda qualified as an undergraduate from the University of London in 1994. Having completed her basic surgical training and FRCS (Eng), she began specialist registrar training at King's College Hospital in radiology with interests in both breast and musculoskeletal imaging.

She's a consultant and Honorary Senior Lecturer at King's College Hospital NHS Foundation Trust and King's College, London. She works in both the NHS breast screening programme (NHSBSP) and the symptomatic breast service. She is accredited to the standards of the NHSBSP and offers expertise in a multimodality approach to breast imaging.
NHS Base (trust)
Imperial College Healthcare NHS Trust
Professional memberships
Royal College of Radiologists (RCR) , British Society of Skeletal Radiologists (BSSR), British Society of Breast Radiology (BSBR)