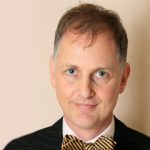 Dr Marcus Harbord
Consultant Gastroenterologist
BSc (Hons), MB BS, PhD, FRCP
Languages spoken: English
Dr Marcus Harbord
Consultant Gastroenterologist
BSc (Hons), MB BS, PhD, FRCP
Languages spoken: English
Specialties
Gastroenterology, Endoscopy, Inflammatory bowel disease
Gender
Male
Clinical Interests
Colonoscopy, gastroscopy, capsule endoscopy, nutritional assessment.
About Dr Marcus Harbord
Marcus Harbord was appointed a Consultant Physician & Gastroenterologist at the Chelsea & Westminster Hospital in 2006, specialising in inflammatory bowel disease (IBD) and colonoscopy. He was Lead Clinician of the Gastroenterology Department 2007-2016. He was previously a consultant physician at the Royal Free Hospital.

Qualifying from St Mary's Hospital, London in 1992, he trained at UCL, the Royal Free, and St Marks Hospital. He has published widely in IBD and is a member of the Editorial Board of the journal Inflammatory Bowel Disease. He was Chairman of the New Consultants' Committee at the Royal College of Physicians 2009-2011; an elected member of the European Crohn's and Colitis Organisation (ECCO) guidelines committee 2013-2016 and Chairman of this committee 2015-2016. He is responsible for two new European guidelines, Extra-intestinal manifestations in IBD, published in 2016 and Ulcerative colitis, published in 2017. He is the creator and main author of the ECCO e-guide, a global learning resource that has converted ECCO guidelines into an interactive, web based algorithmic learning tool. He is co-author of Emergencies in Gastroenterology & Hepatology, published by Oxford University Press in 2013 and principle investigator for the UK twin IBD registry.

In 2020 he was awarded a major grant for a Med-Tech project, to provide healthcare solutions to the poorest peoples in the world.
NHS Base (trust)
Chelsea and Westminster Hospital NHS Foundation Trust
Professional memberships
Royal College of Physicians, European Crohn's and Colitis Organisation (ECCO)