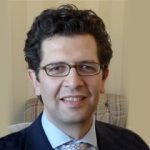 Mr Michael Douek
Consultant Breast Surgeon
MB ChB MD FRCS EBSQ (Breast Surgery)
Languages spoken: English French Greek Italian Spanish
Mr Michael Douek
Consultant Breast Surgeon
MB ChB MD FRCS EBSQ (Breast Surgery)
Languages spoken: English French Greek Italian Spanish
Specialties
General surgery, Breast surgery
Gender
Male
Clinical Interests
All procedures in breast surgery (including sentinel node biopsy, breast reconstruction and intra-operative radiotherapy), Breast cancer - including second opinions, Surgical oncology, melanoma.
About Mr Michael Douek
Professor Michael Douek is an oncoplastic breast surgeon with an interest in breast cancer surgery and breast reconstruction.

He is professor of surgical oncology at King's College London and honorary consultant surgeon at Guy's and St Thomas' NHS Foundation Trust. He was awarded a prestigious Hunterian Professorship by the Royal College of Surgeons of England in 2015.
NHS Base (trust)
Guy's and St Thomas' NHS Foundation Trust
Professional memberships
Breast Surgery International (BSI), Association of Breast Surgery (ABS), Society of Academic & Research Surgery (SARS), Association of Surgeons of Great Britain and Ireland (ASGBI), British Medical Association (BMA), Royal College of Surgeons of England, Royal Society of Biology (RSB)