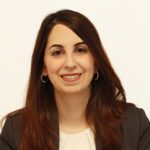 Dr Nida Chammas
Consultant Endocrinologist
MB BCH BAO FRCPI MSc PGA
Languages spoken: Arabic English
I choose the Cromwell for my patients because it means I can provide them with a service that is modern, technically advanced, but most importantly, personalised. My background as an acute and general physician means I consider the whole person, not
Dr Nida Chammas
Consultant Endocrinologist
MB BCH BAO FRCPI MSc PGA
Languages spoken: Arabic English
I choose the Cromwell for my patients because it means I can provide them with a service that is modern, technically advanced, but most importantly, personalised. My background as an acute and general physician means I consider the whole person, not
Specialties
Endocrinology and diabetes mellitus
Gender
Female
Clinical Interests
Type 1 and Type 2 diabetes, diabetes in pregnancy, insulin pump, diabetic neuropathy and the diabetic foot, all diabetic emergencies and complications. General and complex endocrine patients, hypothalamus and pituitary patients, obesity, thyroid, thyroid in pregnancy, parathyroid and calcium disorders, adrenal and gonadal dysfunction, diabetic foot, polycystic ovary syndrome, hirsutism, menstrual disorders, electrolyte disturbances and all aspects of general endocrinology.
Biography
An accomplished consultant physician in Diabetes, Endocrinology, Acute and General Medicine. Dr Chammas has extensive clinical experience gained in busy district general hospitals and teaching hospitals such as Hammersmith, UCLH and King's College Hospital.

Has a strong research background, including an MSc in Endocrinology and Diabetes at King's; also at King's, valuable research in the Diabetic Foot Clinic, with results presented internationally. Dr Chammas has undertaken further research into the management of the diabetic foot having successfully competed and secured a substantial NIHR CLAHRC research grant with colleagues and collaborators.

Has also undertaken additional training in the field of reproductive endocrinology at UCLH and obtained a postgraduate award in insulin pump therapy from Warwick University.
NHS Base (trust)
Chelsea and Westminster Hospital NHS Foundation Trust
Professional memberships
Society for Endocrinology (SfE), British Fertility Society (BFS), Diabetes UK, European Society of Endocrinology (ESE)