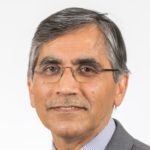 Mr Om Lahoti
Consultant Adult and Paediatric Orthopaedic Surgeon
MBBS, MS(Orth), Dip NB(Orth), FRCS(I), FRCS(Orth), FRCSC
Languages spoken: English Hindi Telugu Urdu
Mr Om Lahoti
Consultant Adult and Paediatric Orthopaedic Surgeon
MBBS, MS(Orth), Dip NB(Orth), FRCS(I), FRCS(Orth), FRCSC
Languages spoken: English Hindi Telugu Urdu
Patient Age Group
Adults,
Paediatric
Year qualified
1985
Specialties
Trauma & orthopaedic surgery, Foot & Ankle, Knee, Paediatric, Hip
Gender
Male
Clinical Interests
Foot and ankle injuries, bunion and other deformities for toes, Minimally invasive and arthroscopic foot and ankle surgery.
About Mr Om Lahoti
Om Lahoti is a consultant orthopaedic surgeon working in NHS since 1993. He received basic medical and post graduate orthopaedic training in India, Ireland and South East of England. He has completed post graduate training at Guys hospital, London, and in the south east. He obtained intercollegiate board qualification (FRCS Orth) in 1997 and completed fellowship training in paediatric orthopaedics and limb reconstruction in Dublin and Sheffield. He has also travelled to world famous Ilizarov Institute in Kurgan, Russia to learn advanced techniques in Ilizarov method.

He started his first consultant job at University Hospital Lewisham and then moved to King's College Hospital in 2003 due to his interest in advanced limb reconstruction and working there ever since. He provides adult and paediatric lower limb (special interest in foot and ankle) problems. He has published scientific papers in reputable journals, written chapters in textbooks on children and adult foot and ankle trauma and non-trauma topics. He has keen interest in post graduate teaching and currently an examiner for Intercollegiate Board of Examination in Orthopaedic Surgery. He conducts instructional courses for post graduates. He lectures at national and international meetings.

Currently he is the President of British Limb Reconstruction Society (BLRS) – 2020 – 2022.
NHS Base (trust)
King's College Hospital NHS Foundation Trust
Professional memberships
British Orthopaedic Association (BOA), British Limb Reconstruction Society (BLRS), British Orthopaedic Foot & Ankle Society (BOFAS), British Society for Children's Orthopaedic Surgery (BSCOS)