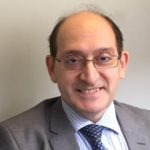 Mr Ragheed Al-Mufti
Consultant General Surgeon
MB BCh BAO MSc MD(QUB) FRCS(Eng) FRCSEd(GenSurg)
Languages spoken: Arabic English
Mr Ragheed Al-Mufti
Consultant General Surgeon
MB BCh BAO MSc MD(QUB) FRCS(Eng) FRCSEd(GenSurg)
Languages spoken: Arabic English
Patient Age Group
Adults,
Paediatric
Year qualified
1984
Specialties
General surgery, Breast surgery
Gender
Male
Clinical Interests
Breast (Benign & Malignant, including corrective & reconstructive Surgery & Congenital); Augmentation & Reduction Mastopexy; Gynaecomastia; Retrosternal Goitres
About Mr Ragheed Al-Mufti
Mr Ragheed Al-Mufti graduated in June 1984. FRCS 1990. MSc 1995, MD 1996, CCST 1997. Appointed consultant Senior Lecturer at University College London 1998. Acting professor of Surgery 1999 (UCL).

NHS full time consultant (General, Breast, Endocrine & Oncoplastic Surgery) at Bart & Royal London Trust 2001. Senior Consultant Surgeon at St Mary's Hospital 2005. Merged with Imperial College London NHS Trust 2008 (current post). Royal College of Surgeons of England Tutor 2002-2006. Elected member of BASO (Cancer surgery) Executive Committee (2005-2009). Elected Chairman of West & North London Breast Cancer Network 2009-2012.
NHS Base (trust)
Imperial College Healthcare NHS Trust
Professional memberships
Association of Surgeons of Great Britain and Ireland (ASGBI), Association of Breast Surgery (ABS), Association of Cancer Surgery (BASO), European Society of Surgical Oncology (ESSO), British Association of Endocrine and Thyroid Surgeons (BAETS), Europa Donna