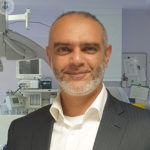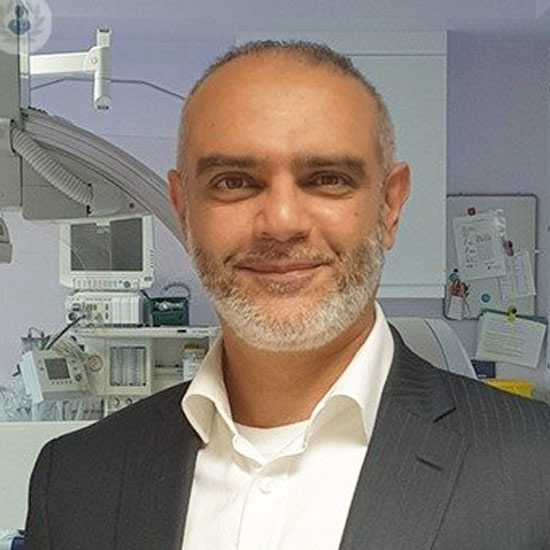 Dr Riyaz Kaba
Consultant Cardiologist
MBChB MRCP (UK)
Languages spoken: Arabic English Gujarati Urdu
Dr Riyaz Kaba
Consultant Cardiologist
MBChB MRCP (UK)
Languages spoken: Arabic English Gujarati Urdu
Specialties
Cardiology
Gender
Male
Clinical Interests
Atrial fibrillation; Cardiovascular defects; Angina; Lipidology; Hypertension; Heart failure; Coronary and ischaemic heart disease; Chest pain; Ablation; Cardiomyopathy; Sudden death syndrome (SDS); Arrhythmias; Pacing (cardiology); Syncope; Echocardiography
About Dr Riyaz Kaba
Dr. Riyaz A. Kaba is a substantive Consultant Cardiologist and Cardiac Electrophysiologist at both St. George's Hospital, London and Ashford and St. Peter's Hospitals, Surrey. He conducts a number of specialist clinics in cardiac electrophysiology, ablations & complex pacing systems. During his postgraduate training in North-West London, at the Royal Brompton & Harefield Hospitals, St Mary's Hospital and Kings College Hospital, he was awarded an advanced fellowship at the prestigious Ivy League institution of Columbia University in Manhattan, New York City, and also at New York University, NYC.

In collaboration with researchers from The National Heart & Lung Institute, Imperial College, Dr. Kaba has published in the highly distinguished journal, Nature Genetics, following the discovery of an ion channel in the heart. He also has publications in a number of other leading journals, including The Lancet and Heart Rhythm, and has received several academic awards including prestigious international awards from America and Europe.

Specialist interests include arrhythmias – the disturbance of electrical activity within the heart – and he performs potentially curative procedures for these conditions in the form of ablations. With his team from South London and Surrey, Dr Kaba hosts the Surrey AF Meeting to enhance the clinical treatment and care of patients with atrial fibrillation. Dr Kaba also specialises in implanting complex pacemakers and was one of the first operators in the world to implant the state-of-the-art quadripolar lead for a patient with severe heart failure.

His teams have also undertaken pioneering research in monitoring pacemakers by remote communications and he is currently the Chief Investigator of a multi-centre randomised interventional study in the field of atrial fibrillation. Having been Director of Research & Development at ASPH, he has was then appointed as lead for CV Research, as well as for overall Commercial Research, at the KSS CLRN, National Institute for Health and Care Research. He is an internationally renowned speaker and trainer, and a senior lecturer and examiner at a number of universities.

Dr. Kaba takes great care and pride in caring for his patients and receives 5-star ratings on Top Doctors. He provides specialist care for patients with atrial fibrillation, cardiovascular defects, angina, lipid abnormalities, chest pain, hypertension, heart failure, coronary and ischaemic heart disease, breathing difficulties, SVTs including ablation therapy, cardiomyopathies, sudden death syndrome (SDS), arrhythmias, ventricular tachycardias, ICDs and pacemakers, slow heart beats, syncope, loss of consciousness, dizziness, abnormal electrocardiograms (ECGs) and echocardiograms.
NHS Base (trust)
St George's University Hospitals NHS Foundation Trust