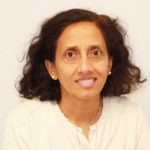 Dr Skandhini Carthigesan
Consultant Neurodevelopmental Paediatrician
MRCS, MRCP, DCH, FRCPCH
Languages spoken: English
Dr Skandhini Carthigesan
Consultant Neurodevelopmental Paediatrician
MRCS, MRCP, DCH, FRCPCH
Languages spoken: English
Patient Age Group
Paediatric
Year qualified
1987
Specialties
Paediatrics, Paediatric neurodisability
Gender
Female
Clinical Interests
Diagnostic assessments and management of children who present with specific clinical indicators of neurodevelopmental disorders, developmental delay, Autism, ADHD and chromosomal anomalies, children with neuro-motor disorders and complex neuro-disability such as cerebral palsy.
About Dr Skandhini Carthigesan
Having completed her undergraduate studies at the University of Leeds, Dr Carthigesan completed extensive training in all aspects of acute, general and speciality paediatrics across many teaching hospitals in London, including The Queen Elizabeth Hospital for Children.

She completed her Higher Specialist Training at Gt Ormond Street Hospital and has worked as a Consultant Paeditrician for over 20 years, most of this period at Chelsea & Westminster Hospital where she continues to work as a Neurodevelopmental Paediarician.

Dr Carthigesan specialises in all aspects of developmental paediatrics. She has widespread expertise in the assessment and management of infants, children and adolescents with developmental concerns, including autism spectrum disorder, ADHD, learning difficulties, developmental coordination disorder and motor disorders. She works with a specialist multidisciplinary team of professionals.

She undertakes undergraduate teaching and is an examiner for medical students at the Imperial Medical School.

She is an Honorary Senior Lecturer at Imperial Medical School.
NHS Base (trust)
Chelsea and Westminster Hospital NHS Foundation Trust
Professional memberships
British Paediatric Neurology Association (BPNA), British Academy of Childhood Disability (BACD), Royal College of Paediatrics and Child Health (RCPCH), Medical Defence Union (The MDU), Royal College of Physicians