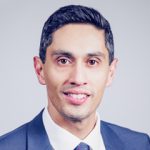 Dr Sukhjinder Nijjer
Consultant Cardiologist
BSc MB ChB MRCP PhD
Languages spoken: English Hindi Punjabi Urdu
Dr Sukhjinder Nijjer
Consultant Cardiologist
BSc MB ChB MRCP PhD
Languages spoken: English Hindi Punjabi Urdu
Specialties
Cardiology, Interventional cardiology
Gender
Male
Clinical Interests
Coronary artery disease, ischaemic heart disease, Cardiac disease prevention, Chest pain, Palpitations, Shortness of breath, Dizziness, Collapse, Angina, Heart attacks, Acute coronary syndromes, Heart Failure, Cardiomyopathy, Cardiac Valve disease, Aortic stenosis, Aortic regurgitation, Mitral regurgitation, Mitral stenosis, Pacemakers, Hypertension / high blood pressure, Hypercholesterolaemia / high cholesterol, Cardiac risk assessment, Coronary angiography, Percutaneous coronary intervention with/without stenting, Advanced adjunctive intracoronary technologies, Fractional flow reserve (FFR), Instant wave free ratio (iFR), Coronary flow reserve (CFR), Intravascular Ultrasound (IVUS), Optical Coherence Tomography (OCT), Devices: single and dual chamber pacemaker insertion, Echocardiography, Reporting of echocardiography, Stress echocardiography, CT Coronary Angiography, Reporting of CT Coronary Angiography
About Dr Sukhjinder Nijjer
Dr. Nijjer is an award winning Cardiologist who has an international reputation in heart coronary artery disease and the use of coronary physiology to guide treatment. He is a Honorary Senior Clinical Lecturer at Imperial College London. He is an Interventional Cardiologist, specialising in the minimally invasive treatment of cardiac disease. His clinics cover all aspects of Cardiology.

He provides a full range of minimally invasive procedures for the diagnosis and treatment of coronary artery disease and is an expert in the emergency treatment of patients suffering a heart attack.

Dr Nijjer is an internationally recognised expert in invasive coronary physiology, an advanced technique which can help guide Cardiologists on when and where a coronary stent is needed. He has performed ground-breaking research into invasive technologies that have changed the field and lead to better treatment of patients around the world. He is regularly invited as a speaker and faculty at international conferences including the American College of Cardiology and TCT.

Dr. Nijjer studied medicine at the University of Bristol, where he graduated with Honours in 2004 with two undergraduate scholarships and many academic prizes. He was also awarded a First Class Honours degree with prizes in Pharmacology which was supported by the prestigious Wolfson Award from the Royal College of Physicians. He undertook his Cardiology training at the Hammersmith Hospital and Royal Brompton Hospital. In his role as Consultant, Dr Nijjer has strived to deliver the best patient care while working across multiple hospital sites in west London. He works closely with General Practitioners, Kidney and Diabetes specialists to ensure the best outcomes for patients with complex needs.

Dr. Nijjer is committed to the better treatment of patients through the development and application of new medical technologies. His PhD, funded by the Medical Research Council and awarded by Imperial College, involved the development of new techniques (iFR and iFR-pullback) to measure blood flow in coronary arteries with blockages. Dr Nijjer pioneered the use of iFR-pullback to better use coronary stents in patients with many blockages and the iFR technology has now been used in thousands of patients around the world. A recent editorial in the New England Journal of Medicine referred to it as 'the new gold standard' and major international studies are ongoing and Dr Nijjer has worked on the design and running of these complex studies.

Dr. Nijjer possesses clinical expertise in all aspects of cardiology, including treating patients with chest pain, angina, breathlessness on exertion, palpitations or collapse. He has expertise in assessing and treating patients at increased risk of heart disease such as patients with high blood pressure, diabetes or raised cholesterol. He uses all of the latest stress testing techniques and if needed, invasive angiography, coronary stenting, and can implant pacemakers or cardiac monitoring devices when it is needed.

Dr. Nijjer's holistic approach to treatment is one of understanding as he recognises and responds to the fact that an individual's medical issues exist alongside other aspects of their lives, treating any medical conditions in a way that fits the lifestyle of his patients. He utilises the latest guideline-supported cardiac test to ensure his patients are fully investigated in addition to his thorough clinical assessment.
NHS Base (trust)
Imperial College Healthcare NHS Trust
Professional memberships
British Cardiovascular Intervention Society (BCIS), Royal Society of Medicine (RSM), European Society of Cardiology (ESC), British Cardiovascular Society (BCS)