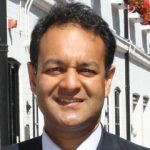 Professor Suveer Singh
Consultant in Respiratory Medicine
BSc MBBS PhD EDIC DICM FFICM FRCP
Languages spoken: English Hindi Urdu
Professor Suveer Singh
Consultant in Respiratory Medicine
BSc MBBS PhD EDIC DICM FFICM FRCP
Languages spoken: English Hindi Urdu
Specialties
Respiratory medicine, Sleep disorders
Gender
Male
Clinical Interests
Sleep medicine, general respiratory, respiratory infection, respiratory failure (NIV), bronchoscopy diagnosis of lung disease, respiratory intensive care medicine, ICU follow up
About Professor Suveer Singh
Dr. Singh is Consultant Physician in Respiratory and Critical Care Medicine, with a special interest in Sleep and ventilation disorders. He practices at the Royal Brompton Hospital, and the Chelsea & Westminster Hospital, London. He is Honorary Clinical Senior Lecturer at Imperial College, London.

His clinical and research interests are broad. They include early diagnostics in infection, general respiratory disorders, sleep disordered breathing including sleep apnoea, insomnia, pulmonary infection, asthma, COPD, interventional pulmonology, bronchoscopic diagnostics (EBUS), pre-operative bariatric assessment, post Intensive care disorders, respiratory failure.

He is lead clinician for Sleep Medicine (C&W), and service Lead for the nationally commissioned ARDS- ECMO service - follow up clinic (RBH). He is former director of Clinical Studies for undergraduate medicine (Imperial College), Royal College Educational Training Supervisor in Intensive Care Medicine, Fellow and Examiner for the Royal College of Physicians (London), Fellow and Examiner of the Faculty of Intensive Care Medicine, former Secretary of the British Thoracic Society Interventional Pulmonology Special Advisory Group, Director of the BrIC training course (Bronchoscopy in intensive care), Faculty of the International Advanced Bronchoscopy Course (Royal Brompton Hospital). He is faculty of Imperial College School of Medicine. He has authored over 100 peer reviewed articles, and is on the Editorial board of Medicine International. He supervises BSc, MD, PhD students, as an active researcher in Respiratory and Critical care. He is co-editor of the forthcoming Oxford Textbook of Respiratory critical care. Dr Singh lectures internationally in respiratory, Sleep and critical care disorders, and has been an expert clinical opinion to a number of public media outlets (i.e BBC, LBC, Ch5).
NHS Base (trust)
Royal Brompton and Harefield NHS Foundation Trust
Professional memberships
British Medical Association (BMA), British Thoracic Society (BTS), European Respiratory Society (ERS), Intensive Care Society (ICS), Royal College of Physicians