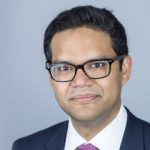 Mr Syed Aftab
Consultant Orthopaedic & Spinal Surgeon
MA Cantab MBChB FRCS (T&O) MSc
Languages spoken: Bengali English
Mr Syed Aftab
Consultant Orthopaedic & Spinal Surgeon
MA Cantab MBChB FRCS (T&O) MSc
Languages spoken: Bengali English
Patient Age Group
Adults,
Paediatric
Year qualified
2006
Specialties
Trauma & orthopaedic surgery, Spine
Gender
Male
Clinical Interests
Spine surgery, spinal cord injury, intervertebral disk degeneration, neuro-oncology, adult spinal deformity, paediatric deformity, spinal trauma, spinal tumour surgery, back pain, sciatica.
About Mr Syed Aftab
Mr Syed Aftab is a Consultant Spinal Orthopaedic Surgeon and the Clinical Lead for Spinal Surgery at Barts Health NHS Trust, based at the Royal London Hospital. He studied medicine at Pembroke College, Cambridge University and Edinburgh University. He underwent higher surgical training in Orthopaedics and Spinal Surgery on the London NE Thames rotation at the Royal National Orthopaedic Hospital, Stanmore.

He also gained a Master of Science at University College London in Trauma and Orthopaedics during his training. Syed completed advanced fellowships in Spinal Surgery at the Royal London Hospital. Furthermore, he continues to broaden his experience with visitations to international centres of excellence for spinal surgery (Antwerp Belgium, Bordeaux France, Neustadt Germany and Orlando USA).

Mr Aftab has been pioneering the iMAS technique in the UK, using micro access techniques developed by Dr Robert Masson at Neurospine Institute, Orlando, USA (a Federally accredited Centre of Excellence).

He believes that the best outcomes for patients can only be achieved when decisions are carefully considered and works within the framework of a multidisciplinary team. Prior to being appointed as the Clinical Lead for Spinal Surgery at Barts Health NHS Trust, he was the Clinical Effectiveness Lead for Orthopaedics at the Royal London Hospital. He is actively involved in teaching other doctors, nurses and allied health professionals.

My Aftab is an Honorary Senior Lecturer at Queen Mary University of London and Module Lead for Spinal Trauma, both teaching and organising the spinal teaching programme for postgraduates studying trauma and orthopaedics.

Syed has published widely in a number of peer-reviewed medical journals and is actively involved in research into spinal surgery. He is also a reviewer for submissions relating to spinal surgery for various academic journals. He has presented at national and international conferences.

Syed is the first surgeon in the UK to perform robotic-assisted spinal surgery. He has been developing this area and is currently already on the second-generation robot. His NHS practice is the first in the UK to offer robotic surgery routinely. He believes that innovation and skill is vital to progress and will soon offer this technological leap to private patients also.
NHS Base (trust)
Barts Health NHS Trust
Professional memberships
British Association of Spine Surgeons (BASS), National Ankylosing Spondylitis Society (NASS), British Orthopaedic Association (BOA)