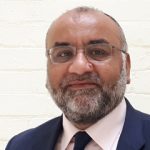 Mr Tariq Zaman
Consultant Orthopaedic Surgeon
MBChB FRCS
Languages spoken: English Punjabi Urdu
Mr Tariq Zaman
Consultant Orthopaedic Surgeon
MBChB FRCS
Languages spoken: English Punjabi Urdu
Patient Age Group
Adults,
Paediatric
Year qualified
1988
Specialties
Trauma & orthopaedic surgery, Paediatric, Shoulder & Elbow, Hand & Wrist
Gender
Male
Clinical Interests
Shoulder: Impingement, rotator cuff disease and tears, bursitis, tendinitis, frozen shoulder, arthritis, fractures of shoulder and clavicle Elbow: Tennis elbow, arthritis and stiffness, distal biceps tendon rupture, elbow arthroscopy, fractures of the elbow, nerve entrapment Hand and Wrist: Carpal tunnel syndrome, trigger finger, osteoarthritis, wrist and hand fractures, scaphoid fractures, Dupuytrens contracture, ganglions, De Quervain's tenosynovitis, wrist pain
About Mr Tariq Zaman
Mr Zaman is a Consultant Orthopaedic Surgeon at the London Northwest Healthcare NHS Trust and is the Upper Limb Lead at the Ealing site. He trained in Dundee, Scotland and then after registrar training posts did two Fellowships in Upper limb surgery. One at the prestigious Reading Shoulder Unit and the other an AO Fellowship in Upper Limb Trauma in Salzburg, Austria. He was also awarded the EFFORT travelling Fellowship in 2003 prior to appointment in 2003. His practice at Cromwell Hospital began in 2004.

He has 3 regular clinics at Cromwell Hospital and is pleased to discuss cases with your referring physiotherapist or GP. Mr Zaman will also see paediatric Upper Limb referrals above the age of 8.

Currently he is pursuing the in vivo monitoring of blood flow in rotator cuff injuries as well as looking at the relation of hand held and desktop devices in relation to shoulder impingement.
NHS Base (trust)
London North West University Healthcare NHS Trust
Professional memberships
Royal College of Physicians and Surgeons of Glasgow, British Orthopaedic Association (BOA), British Elbow and Shoulder Society (BESS), Royal Society of Medicine (RSM)