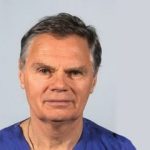 Prof Tim Allen-Mersh
Consultant Colorectal Surgeon
BSc, MD, FRCS
Languages spoken: English
Prof Tim Allen-Mersh
Consultant Colorectal Surgeon
BSc, MD, FRCS
Languages spoken: English
Specialties
General surgery
Gender
Male
Clinical Interests
Anal bleeding and anal disorders, including haemorrhoids, fissure, fistula and warts; pilonidal sinus
About Prof Tim Allen-Mersh
Professor Allen-Mersh trained in surgery at Charing Cross and Royal London Hospitals, and completed fellowships in colorectal surgery at St Marks Hospital, London, and in cancer surgery at Memorial Sloan Kettering Cancer Centre, New York. He was appointed as an NHS Consultant Surgeon in 1986, and awarded the title of Professor in 1997.

He has written over a hundred papers on colorectal topics - including cancer, haemorrhoids, pilonidal sinus, and incontinence. He has been an accredited Consultant at Cromwell Hospital for over 25 years.

He specialises in fluctuation in bowel habit, anal bleeding and discomfort, haemorrhoids, pilonidal sinus.
NHS Base (trust)
Chelsea and Westminster Hospital NHS Foundation Trust
Professional memberships
Association of Surgeons of Great Britain and Ireland (ASGBI)