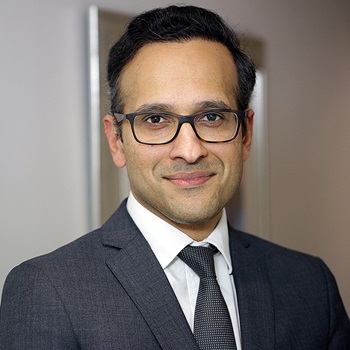 Dr Tushar Salukhe
Consultant Cardiologist
BSc MBBS MRCP MD
Languages spoken: English
Dr Tushar Salukhe
Consultant Cardiologist
BSc MBBS MRCP MD
Languages spoken: English
Specialties
Cardiology, Cardiac devices, Electrophysiology
Gender
Male
Clinical Interests
Management and ablation of all types of cardiac arrhythmias. Pacemakers and defibrillators and vasovagal syncope
About Dr Tushar Salukhe
Dr Salukhe specialises in cardiac arrhythmias, including ablation and cardiac devices including defibrillators and biventricular pacemakers. His clinical focus is in the ablation of atrial arrhythmia, and in particular atrial fibrillation and also the care and treatment of patients with vasovagal syncope (fainting).

He obtained a first class B.Sc. and qualified in first place in medicine with distinctions in 1998 at Imperial College London. He obtained his doctorate in pacing therapies for heart failure at the National Heart and Lung Institute, Imperial College in 2008.

He trained and specialised in cardiac electrophysiology and advanced ablation at prominent centres such as the Royal Brompton and St Mary's Hospitals in London and the renowned Universitatsklinikum Hamburg-Eppendorf, Germany.
NHS Base (trust)
Royal Brompton and Harefield NHS Foundation Trust
Professional memberships
Royal Society of Medicine (RSM), Royal College of Physicians