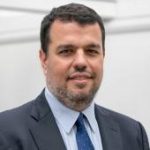 Dr Vasileios Kouranos
Consultant In Respiratory Medicine
PhD
Languages spoken: English Greek
Dr Vasileios Kouranos
Consultant In Respiratory Medicine
PhD
Languages spoken: English Greek
Specialties
Respiratory medicine
Gender
Male
Clinical Interests
Great experience in management of patients with sarcoidosis, interstitial lung disease, pulmonary fibrosis, hypersensitivity pneumonitis, connective tissue disease, associated interstitial lung disease. Also manages patients with general respiratory problems such as unexplained chronic cough, asthma, bronchitis, chronic obstructive pulmonary disease (COPD), respiratory infections and bronchiectasis
About Dr Vasileios Kouranos
Dr Vasilis Kouranos is a Consultant Respiratory Physician at the Royal Brompton Hospital and Honorary Senior Lecturer at Imperial College, London.

Dr Kouranos completed a fellowship in interstitial lung disease and sarcoidosis at the Royal Brompton Hospital. He has a sub-specialist expertise in Cardiac Sarcoidosis, which was the subject of his PhD thesis. He also manages patients with general respiratory problems such as an unexplained cough, asthma, COPD and bronchiectasis.

Dr Kouranos's PhD focused on the screening of cardiac sarcoidosis with cardiac MRI and he has also been awarded a MSc in Thoracic Oncology. He is actively involved in clinical research and is the author of over 100 of peer-reviewed articles, including original papers, editorials, abstracts and book chapters. He has developed the Royal Brompton Hospital Cardiac Sarcoidosis Registry, which is the largest in the world. As part of his research activities he has co-designed and participated as principal investigator in clinical trials in treatment of pulmonary and cardiac sarcoidosis. He is the course organiser of the Annual Cardiac Sarcoidosis symposium with national and international delegates.

Dr Kouranos is a member of British Thoracic Society (BTS) and the BTS Clinical Statement Group for Diagnosis and Management of Sarcoidosis. He is also a member of Royal College of Physicians (RCP), European Respiratory Society, American Thoracic Society and World Association of Sarcoidosis and Other Granulomatous Disorders (WASOG). He was a member of the British Thoracic Society Standards of Care Committee.
NHS Base (trust)
Royal Brompton and Harefield NHS Foundation Trust
Professional memberships
American Thoracic Society (ATS), British Thoracic Society (BTS), Medical Defence Union (The MDU), Royal College of Physicians
Appointments
020 7460 5700
Clinic opening times:
| | |
| --- | --- |
| Monday | ad hoc |
| Tuesday | 16:30 - 18:30 |
| Wednesday | ad hoc |
| Thursday | ad hoc |
| Friday | 16:00 - 18:00 |
Make an enquiry >
Refer a patient >