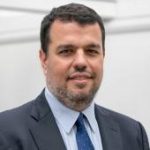 Dr Vasilis Kouranos
Consultant In Respiratory Medicine
MD (2004), MSc (2011), PhD (2017)
Languages spoken: English Greek
Dr Vasilis Kouranos
Consultant In Respiratory Medicine
MD (2004), MSc (2011), PhD (2017)
Languages spoken: English Greek
Specialties
Respiratory medicine
Gender
Male
Clinical Interests
All respiratory conditions, with specialist expertise in: - Idiopathic pulmonary fibrosis (IPF) - Sarcoidosis (pulmonary, cardiac and other organ involvement) - Hypersensitivity pneumonitis - Connective tissue disease (such as rheumatoid arthritis and scleroderma)-related lung disease - Post-COVID lung disease and complications (long COVID) Dr Kouranos performs conventional bronchoscopies as part of investigating the above conditions.
About Dr Vasilis Kouranos
Dr Vasilis Kouranos is a consultant respiratory physician at the Royal Brompton Hospital and honorary clinical senior lecturer at Imperial College, London.

Dr Vasilis Kouranos has both clinical and academic interests. During his training in respiratory medicine he has completed a MSc in Thoracic Oncology with specific interest in the antibiotic prophylaxis of chemotherapy-induced neutropenic lung cancer patients. Following a 3-year fellowship at Royal Brompton Hospital he was appointed Consultant Respiratory Physician under the Interstitial Lung Disease and sarcoidosis department. His PhD focused on the use of CMR as screening tool of cardiac involvement in patients with biopsy-proven sarcoidosis. He was awarded a research scholarship grant for that study. This research study was published in a high-impact journal which influences current practice in the field.

As part of his work at Royal Brompton hospital he has also contributed to the substantial development and growth of the cardiac sarcoidosis service as well as the joint neurosarcoidosis service.
NHS Base (trust)
Royal Brompton and Harefield NHS Foundation Trust
Professional memberships
American Thoracic Society (ATS), British Thoracic Society (BTS), European Respiratory Society (ERS), World Association of Sarcoidosis and other Granulomatous Disorders
Appointments
020 7460 5700
Clinic opening times:
| | |
| --- | --- |
| Monday | ad hoc |
| Tuesday | 16:30 - 18:30 |
| Wednesday | ad hoc |
| Thursday | ad hoc |
| Friday | 16:00 - 18:00 |
Make an enquiry >
Refer a patient >