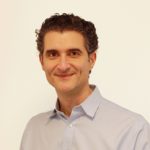 Dr Yiannis Ioannou
Consultant Paediatrician
MA, MBBS, MSc, FHEA, FRCPCH
Languages spoken: English Greek
Dr Yiannis Ioannou
Consultant Paediatrician
MA, MBBS, MSc, FHEA, FRCPCH
Languages spoken: English Greek
Specialties
Paediatrics
Gender
Male
Clinical Interests
Newborn care and checks, health surveillance, immunisations, vaccines and all conditions affecting children from birth to teenage years. Examples include acute illnesses, fever, coughs and colds, wheezing, feeding difficulties, reflux and colic, constipation, abdominal pain, skin rashes and eczema.
About Dr Yiannis Ioannou
Dr Yiannis Ioannou is a General Paediatrician based at Chelsea and Westminster Hospital and lives in North London with his family.

As a general paediatrician and father of two young children, Yiannis is happy to consult on all conditions affecting children and young people and offers well baby checks and general health assessments.

Yiannis graduated from Pembroke College, Cambridge University and Guy's and St Thomas' Medical School in London. Yiannis has diverse experience in children's medicine and has previously worked in many hospitals across London including Great Ormond Street Hospital for Sick Children and University College London Hospital. He has also trained at St Mary's Hospital and Evelina Children's Hospital in London and Children's Hospital Westmead and the Royal Prince Alfred Hospital in Sydney, Australia.

Yiannis completed a Master's degree in Clinical Paediatrics at the Institute of Child Health, was awarded a Fellowship with the Higher Education Academy and a Teaching Excellence Award by Imperial College School of Medicine, where he has a post as an Honorary Clinical Senior Lecturer.
NHS Base (trust)
Chelsea and Westminster Hospital NHS Foundation Trust