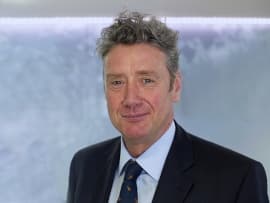 28 May 2019
Cromwell Hospital has strengthened its expertise in orthopaedics with the appointment of Mr Simon Moyes, a leading surgeon in Orthopaedic Surgery and Sports Medicine in London. This move will see Mr Moyes providing consultations and treatment for patients at the hospital and Basinghall Clinic, its outpatient centre in the City of London.
The new appointment will bring together the clinical excellence of Cromwell Hospital and expertise of Simon Moyes to provide patients with fast access to a leading expert and treatments. This includes arthroscopic (keyhole) surgery, which he specialises in. The highly sophisticated technique means patients spend less time in hospital and are able to recover quickly.
Cromwell Hospital has advanced diagnostic and treatment technologies including X-ray, CT scans, ultrasound and three ambient MRI scanners over the two sites which offer the most up-to-date imaging available in London.
Simon Moyes pioneered the use of keyhole surgery in shoulders and ankles and is one of the most in-demand orthopaedic surgeons in the world. His experience will be a valuable addition to the team at Cromwell Hospital.
Simon Moyes will be assessing his first patients at the hospital and Basinghall Clinic from Wednesday 29th May.
Mr Simon Moyes comments; "I am pleased to be joining Cromwell Hospital. The hospital has the most advanced diagnostic and treatment technologies in the UK and I will be able to offer my patients the hospital's unique patient pathway where they will able to be seen, imaged and reviewed all in one appointment and under one roof.
"The operating theatres, facilities and nursing care at the hospital have a fantastic reputation which will compliment my orthopaedic and sports medicine offering. Basinghall Clinic will also be a seamless transition for outpatients in the City.
"I am committed to providing patients with top of the range care and am confident that this is something I will continue to showcase at Cromwell Hospital."
Philip Luce, Hospital Director, Cromwell Hospital, said; "We are very excited that Simon Moyes will be practising at the hospital. We are already a centre of excellence in orthopaedics and his expertise will enhance this to provide our patients with a first-class service, something which we are constantly striving to provide. We are all looking forward to welcoming Simon."
-ENDS-
For further information on Cromwell Hospital please contact Laura Tompkins on laura.tompkins@bupa.com or 07595461287
Notes to Editors
About Simon Moyes
Simon Moyes is a leading orthopaedic surgeon, who pioneered the use of keyhole surgery in shoulders and ankles. He specialises in disorders of the knee, shoulder, foot and ankle.
For more information please visit www.simonmoyes.com
About Cromwell Hospital:
Cromwell Hospital was established in 1981 and acquired by, leading international healthcare group, in March 2008. It is a leading London hospital renowned for being the first to invest in some of the UK's leading edge equipment and cancer services.
Based in West London, the hospital has over 500 accredited consultants, mainly drawn from London's teaching hospitals, covering over 70 specialties. It is recognised as a centre of excellence for oncology, cardiology, paediatrics, orthopaedics, lung, complex surgery and medicine. Cromwell Hospital's diagnostics service offers the very latest technology. There are two ambient MRI scanners and the angiography suite offers the most up-to-date imaging available in London. Consultants use the latest surgical techniques and have access to advanced non-invasive technologies, such as Gamma Knife surgery and robot-assisted joint replacement surgery. Outpatient services include private GPs, health screening and family medicine services.
The hospital has 120 beds and boasts a large and loyal UK and international clientele, admitting self-pay, embassy sponsored patients and those funded by medical insurance. Cromwell Hospital constantly strives to provide a first class service to its patients through the use of state-of-the-art technology, innovative diagnostics and a continuous investment programme. For more information visit www.cromwellhospital.com.