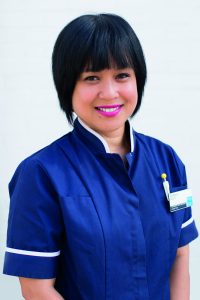 Ever wondered what a day in the life of a breast cancer nurse specialist looks like? Here Steffanie Espiritu, Breast Cancer Nurse Specialist at Cromwell Hospital talks us through what a typical day looks like, and her favorite things about the job. 
What made you want to become a breast cancer nurse specialist?
I studied nursing in the Philippines, and then moved to England in 2001 and specialised in women's health. Being a woman myself, and having young female members in the family made me think about what I could do to support women, and how I would like to be looked after.
What part of your role gets you out of bed in the morning?
I'm especially motivated by the challenge of guiding my patients through their treatment decisions through to ensuring that they have the emotional and psychological support they need.
At the end of the day, the best part of my job is when patients say, "Thank you for making me feel better today," and the hugs!
What does a typical day look like for you?
My typical day revolves around the patient. Whether the they are an outpatient or an inpatient, whether they are coming in for their treatment or for a follow up, I am their main contact.
First thing in the morning I do ward rounds to check on patients who may be having, or have had surgery, chemotherapy, and radiotherapy, then I am briefed on any new patients who have come in. I spend time supporting the breast clinics and after this I focus on emails and phone calls, checking in with patients who are at home and may have specific questions about their treatment. I then give myself time to go through key documentation i.e. updating audits and teaching sessions for other staff members.
How does your role fit into the wider breast care team?
My role involves building and maintaining a relationship with the patient throughout their treatment pathway. With regards to the wider team, I act as an intermediary between the patient and the team, ensuring that communication is as clear and smooth as possible
Your role can be both stressful and challenging, how do you look after yourself to make sure you are 100% for your patients?
I have my clinical supervision every so often and the management team are very supportive. We also have great staff benefits that help me relax, and of course taking proper breaks!
Ultimately nursing is a passion, and it's important that you love doing your job!