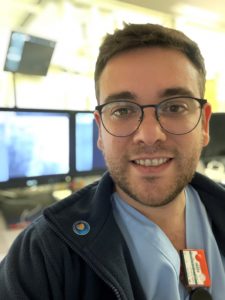 Please explain a little bit about your role as Superintendent Radiographer in Angiography and your background in healthcare.
I've worked for the NHS for the past seven years as a Senior Diagnostic Radiographer. I've worked throughout some modalities such as Radiography, CT, interventional radiology and cath lab. In June 2022, I've joined Cromwell Hospital.
My role is very dynamic: I can do clinical work in the morning as supporting the cardiac consultants with imaging during a pacemaker insertion as well as managing part of the angiography department, participating in meetings, and keeping track of all radiation protection safety measures.
How long have you been working at Cromwell Hospital?
It has been six months now since I started working at Cromwell Hospital.
What inspired you to take on the role of Superintendent Radiographer in Angiography?
I've been inspired by the daily challenge of leading a team. Inspiring our colleagues to deliver an outstanding service to all our patients is my biggest motivation every day.
What does a typical day look like for you ?
In the morning, I activate all the quality assurance protocols to assess the quality of the images our fluoroscopy equipment is delivering and also do all the safety checks to ensure it is safe for our staff and patients to be within a radiation protected area during a case. Then, i attend various meetings, answer all the emails received and proceed with documentation pending such as staff rotas, incidents' reports, and audits. I also participate in the clinical activity every day.
Having contact with patients is still the best part of my job. At the end of the day, I double check the list of procedures for the next day and confirm if any special requests have been made to the radiographer's team.
How does your role support patients and staff at Cromwell Hospital?
The angiography department team is very proactive. As a team we are very positive to accommodate all the studies requested even when they're booked within short notice. To make this happen, a massive capacity of work on the background is necessary. I truly believe my role as a superintendent mainly supports staff and patients assuring the best quality images using the minimum dose of radiation possible.
What do you enjoy most about your role?
The balance between clinical and managerial duties is the best part of my job. I feel like coming to work is always a good challenge as I am constantly working to improve the service provided but also to learn more about how to do it. I love the mix and it makes me very happy!
Find out more about the cardiology services at Cromwell Hospital and how they can support you