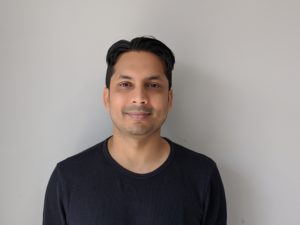 Motin Ali, shares what he enjoys about his role as Lead Clinical Cardiac Physiologist for Invasive Diagnostics and Therapies at Cromwell Hospital.
Please tell us about your role as Lead Clinical Cardiac Physiologist and your background in healthcare.
From my early childhood, I had great interest in science. I was fascinated by how it is all around us in the physical world. Later my interest grew in medical science and given my natural tendency to help people, it made sense to me to become a healthcare professional.
A career in the healthcare sector is vast and varied. I pursued something that is dynamic, high tech, challenging, exciting and involves front line patient care. This easily led me to become a cardiac physiologist.
How long have you been working at Cromwell Hospital?
It's been two and a half years since I've joined Cromwell Hospital.
What inspired you to take on the role of Clinical Lead Cardiac Physiologist?
I have always worked in the public sector healthcare. During my development, I remember public-private initiatives and competition were promoted by the Department of Health (DOH); part of me wanted experience in private sector, but I couldn't find the right opportunity until recently.
I also believed this would broaden my skill and experience and make me a more complete clinician.
What does a typical day look like for you as Lead Clinical Cardiac Physiologist?
A typical day for me starts a week earlier.
We are unique in the sense that within the spectrum of cardiac disciplines (cardiac EP/ablation, cardiac CRM, cardiac intervention), we offer a very large number of procedures – anything up to 20 different types. An additional challenge is that all procedures have different set up and workflow based on physician preferences.
We plan ahead to ensure we are prepared to deliver high quality and effective service. Our approach is being patient-centered and driven/lead by physician.
A typical day would involve working as a team, clear communication between all stakeholders (physicians, patient, other departments), staff allocation based on skill sets, ensure case continuity, and tailored workflow.
How does your role support patients and staff at Cromwell Hospital?
We understand our position of strength in the angiography department. In order to differentiate and stand out, we offer patients services within hours (not days or weeks). We engage with patients before, after and post procedure.
We ensure the staff is involved in all aspects of the department. We facilitate clinical training and development. We ensure consensus on the department's Standard Operating Procedures (SOPs), policies and working conditions and practices.
What do you enjoy most about your role?
The best aspect of working at Cromwell Hospital is working with a variety of visiting physicians and learning their unique approach and philosophy. This level of experience and exposure is strictly exclusive to the private sector and very enriching. This is a strength of Cromwell Hospital and should be highlighted.
I also enjoy the autonomy given to me as part of my role. It allows me to think outside the box so to speak and experiment with ideas, new ways of working, etc.
Any other comments?
In the angiography department, we are always introduced to new technology and new ways of delivering clinical activity. We encourage this and take pro-active measures to ensure this is the case as our patients and physicians demand this. That could be upgrading/updating systems or new consumable items, therefore logistics become very important.  That's why we rely on and work in partnership with procurement services, medical engineering, and IT.
We like to be known as 'The A Team' (as in 'Angio Team').  The below famous television series' statement reflects our motto:
'In 1972, a crack clinical unit was sent to prison by a military court for a crime they didn't commit. These men and women promptly escaped from a maximum-security stockade to the London underground. Today, still wanted by the government, they survive as clinicians of fortune. If you have a problem, if no one else can help, and if you can find them, maybe you can hire the A-Team (Angio Team).'
Find out more: Heart and Lung Centre - Cromwell Hospital